Concrete-effect floors: tough, stylish stoneware tiles
Benefits of concrete-effect stoneware floors
Minimalist and highly fashionable, concrete-effect porcelain stoneware floors are an interior design solution that offers many benefits for a variety of reasons.
First and foremost, concrete-effect ceramic floor and paving tiles are an excellent choice for indoor and outdoor use. Here, the technical characteristics of stoneware are a major plus factor, such as its resistance to abrasion, foot traffic and impacts. Porcelain stoneware is also waterproof, since it has a moisture absorption coefficient of less than 0.5%, making floors and pavings immune to water and liquids. Another beneficial factor is resistance to fire - stoneware is flame retardant and does not emit toxic materials in case of fire - and frost; it is unaffected by sharp changes in temperature, so it is also perfect for covering outdoor areas.
Last but not least, the colours of concrete-effect floors do not fade over time. This is particularly important for use as outdoor pavings, as tile colours are unaffected by exposure to sun, smog and weather.
Emilgroup concrete-effect stoneware collections
Since we have listed a series of good practical reasons for choosing concrete-effect ceramic floors, we will now move on to discuss their stylistic and aesthetic uniqueness. One Emilgroup collection that uses the ceramic effect with the most stunning results is Tr3nd by Ergon, perfect for the needs of even the most demanding architects thanks to the matt elegance of concrete. Tr3nd is also very versatile, with the potential for extraordinary combinations, to free up the imagination and generate trend-setting compositions, ideal for designing both large surfaces and smaller interiors, with an imitable style.
Tr3nd by Ergon concrete-effect porcelain stoneware floors create a luxurious, very elegant mood that is minimal yet also very visually striking.
Concrete-effect porcelain stoneware: colours
Concrete-effect porcelain stoneware floors offer a wide variety of colours, to bring beauty to living-spaces of various kinds and support different furnishing styles. Let's take a look at some examples together. Taupe concrete-effect floors are neutral and easy to combine with other colours. Taupe creates perfect, delicate hues for all styles and locations. Since it is a hybrid colour, belonging to both the brown and the grey families, it gives interiors a welcoming mood and a subtlety that is in some respects feminine, very elegant and steeped in class and style. This neutral colour is able to compensate for any more brightly coloured furnishing items, creating balance in the design scheme and adding simplicity and precision.
It is an ideal solution for concrete-effect stoneware indoor floors.

Beige concrete-effect floors and pavings are highly suitable for large spaces like living-rooms or stylish designer kitchens, but are equally at home in attractive outdoor areas like gardens and verandas. Beige bestows elegance, warmth and light: it is the perfect colour for those seeking something classical but with just the right touch of personality, or who love subtle but well defined colours. Beige provides sensational results, creating design schemes with the characteristics of good taste, sophistication and elegance. This colour is perfectly suitable for walls, where it gives light to interiors and expands the perception of spaces with class. A solution that is always refined and never banal. Beige concrete-effect floors create very natural simple, and above all absolutely versatile design schemes.

We will conclude by discussing grey concrete-effect floors. This colour is perfect for design in line with the latest trends; it is ideal for creating relaxing, welcoming interiors and also gives them an air of clean simplicity. To highlight the grey colour even more effectively, wood is excellent: together, they give space a very natural simplicity, and create the "shabby chic" style which is now so fashionable in the design world. Grey concrete-effect floors are ideal for decorating the kitchen of a private home or a public location, a living-room, bedroom or dining-room, or also a bathroom, terrace or garden. Grey adds light to the entire space around it, enhancing dark and light colours, with harmony, security and intensity.
Concrete-effect porcelain stoneware: opinions
But what do people think of concrete-effect floors? They are certainly very popular with people who wish to furnish their homes in perfect urban, modern, metropolitan style. Favourite colours are grey, which gives the home and room a British, masculine air, and beige, which creates elegant, more neutral, highly sophisticated interiors. This material certainly gets five stars for easy cleaning.
Concrete-effect porcelain stoneware: prices
When it comes to prices, the costs of concrete-effect ceramic floor tilesvary: the price may change depending on the materials and minerals used for the composition and the different manufacturing methods. It is worth underlining that concrete-effect floors, the gem of modern building design, are extremely environment-friendly: the price can be considered low because it is the outcome of moderate investments accompanied by low maintenance costs and outstanding quality.
Installation of concrete-effect porcelain stoneware
Have you ever wondered about the best installation technique for concrete-effect porcelain stoneware floors? The two options are cement mortar or adhesive. Usually, installation with adhesive gives the floor covering better flexibility, especially if the product used contains synthetic resins. In detail, one installation technique is as follows. First of all, the entire surface for tiling is coated with adhesive, after which the tiles are installed before it can dry.
Once the floor coverings have been positioned precisely and accurately, before the adhesive has completely dried the tile must be pressed down firmly to ensure that it adheres correctly. This can be done by tapping the surface with a rubber mallet or the wooden handle of a hammer. About a day later, once the adhesive has set completely, the joints can be grouted, after which the floor is cleaned.
Imitation concrete: cleaning and care advice
As already mentioned, concrete-effectfloorsare very hard-wearing and of excellent quality, but the fundamental importance of care and cleaning must also be underlined. For optimal cleaning, especially forlight-coloured concrete-effect floor coverings, the water used must always be clean, with specific cleaning products diluted in it.
To clean concrete-effect porcelain stoneware to perfection, use a brush and a microfibre cloth, rubbing the floor covering briskly. Take care to dry all the tiles perfectly after washing them to ensure that no detergent smears are left.
Concrete-effect tiles without joints
Concrete-effect ceramic floor tiles are certainly the easiest to clean. This is one very good reason for choosing tiles of this kind. People often forget that joints, grouted with a porous material, inevitably absorb some liquids, dirt and dust, and may tend to turn darker in colour in a very short time. Over the long term, the overall effect of the floor covering may be ruined, with repercussions for the beauty of the entire room. Choosing large-size tiles to reduce the number of joints between them makes interiors appear larger: very small rooms and bathrooms gain space and breadth, rooms that are already large seem even more spacious, and the unattractive grid effect is avoided.
Concrete-effect outdoor pavings
The concrete-effect is also a popular inspiration for outdoor projects: it is simple, contemporary and versatile, and therefore excellent for outdoor areas. Concrete-effect outdoor pavings are ideal for anyone who wants to give the outdoor areas of homes or commercial premises an urban, modern, New York look. Thanks to this metropolitan mood that concrete-effect outdoor pavings give to surfaces, the entire surrounding area gains in modernity and personality. Tactile concrete-effect stoneware surfaces are also a very stylish situation for adding a contemporary seductive tone to the outdoor projects of private homes: verandas, gardens, patios and balconies.

After this brief introduction to concrete-effect floor coverings and pavings, now it is up to you to design your residential solution in style, in line with the latest trends.
01 January 2020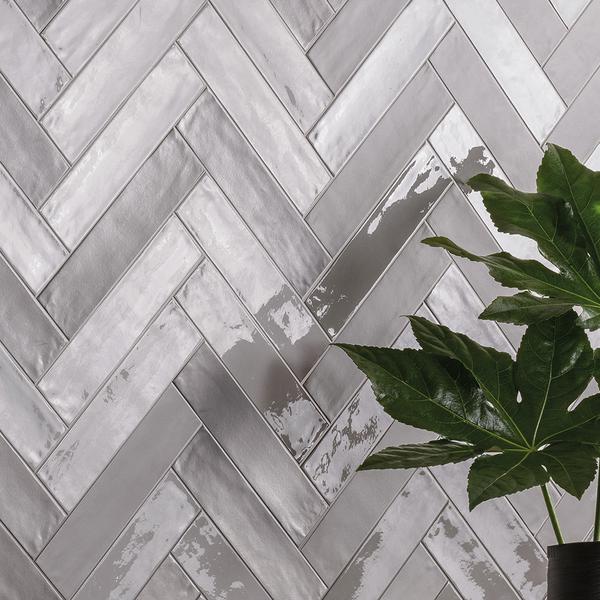 Totalook: interview with the designer