Porcelain stoneware: the wood look that surpasses parquet
Porcelain stoneware: the wood look that surpasses parquet
Wooden floors are found everywhere in interior design. They create a unique impression within a room – elegance, warmth, comfort – and adapt with great versatility to every trend and every period. Today, wood look porcelain stoneware proudly maintains this very stylish legacy. Thanks to new technologies applied to the ceramics industry, imitation wood stoneware has achieved extremely high quality standards that equal the look of the original material.
Various types of oak, walnut – thanks to the solutions offered by Emilgroup, the unique mood of wooden floors in all their many facets and colour shades can be enjoyed to the full with the countless benefits provided by the use of wood look porcelain stoneware.
Characteristics of wood look stoneware
Wood look stoneware is one of the most popular solutions for decorating homes of any kind and style. Nowadays, the imitation wood stoneware processing technology provides a very accurate reproduction of all the sensory impressions of wood itself on tiles that adapt with great agility to cover any floor, with no installation problems or structural impediments. Wood look porcelain stoneware offers obvious advantages in terms of resistance to knocks, scratches, chemicals and atmospheric agents, with great durability over time. Thanks to stoneware solutions, bathrooms and kitchens can be designed with wooden floors, otherwise too vulnerable to the damp conditions. It is worth remembering, as well, that the imitation wood stoneware production process protects the environment: it is an eco-friendly material, in which production waste is reused, with a sharp reduction in environmental impact.
Imitation wood tiles require very little care; they are easy to clean and convenient and practical in every way, without sacrificing any of the beauty of natural wood. As an example, we can examine the Mimesis wood look tiles by Emilceramica: this collection accurately reproduces the appearance and character of brushed oak. The natural rustic look and strong character of these wood look tiles is clear at a glance. The wood's veining, knots and roughness generate warm, enticing sensations, expressed in four colour variants (Avorio, Ecru, Miele and Tabacco). Mimesis is an exercise in sensory realism perfected using the Real technology, which expresses the soul of wood in the most sophisticated design solutions.
Reasons for choosing wood look floor tiles
The wooden floor is the basis for the most widely different styles and satisfies all needs and the most diverse aesthetic tastes. From classic to Baroque furnishing through to industrial and shabby chic, from rustic to vintage, from the Scandinavian to the Mediterranean mood. A wood look floor plays the central role in all these styles.
Whatever your terms of reference, with wood look porcelain stoneware you can create design projects easily and conveniently, with the certainty of a material that lasts unchanged over time.
An imitation wood floor immediately gives interiors the right temperature – the cosy, homely, comfortable mood that only wood can give to a room, with an antique, intimate beauty such as that of the Alter wood look tiles by Provenza. An invitation to discover the most authentic impressions of oak, immersed in a new approach to this material, achieved through stylistic contaminations. The collection's wood look tiles are enhanced by the encounter with resin, for a hybrid, extremely modern result. The Sbiancato, Miele, Noce and Bruciato shades – also available in the Incontro decor, which daringly combines the cross-sections of wooden planks with resin – are an invaluable opportunity for designing a refined, modern wood look floor.
How to clean imitation wood stoneware floors
Floor cleaning is one of the key considerations in home management, and thus in interior design. The floor has to play a key role in the rooms where we live our daily lives, and must always be clean, shiny and healthy. Care procedures are a crucial factor when choosing an imitation wood floor.
In fact, unlike a classical parquet, wood look porcelain stoneware does not require any special precautions or procedures when cleaning: with low porosity and low absorption levels, it has excellent resistance to stresses and to chemicals.
Daily cleaning of a wood look stoneware floor simply involves wiping with a soft cloth or vacuum cleaning to remove dust, followed by washing with a neutral detergent, and rinsing. Particularly stubborn stains (like ink) can be removed with a more concentrated acid detergent.
Wood look porcelain stoneware is easier to clean and sanitise than virtually any other material; it is designed to support a carefree home environment, with surfaces that are always clean and always look their best. This potential is expressed in a new design idea in the Woodtouch collection by Ergon. This is a stylistic interpretation of brushed oak: a series of treated wood look tiles that enhances the materials expressive potentials. Woodtouch includes five variants that differ not only in colour shade but also in tactile sensation, from soft, almost silky to quite rough. A further exploration of the design possibilities offered by imitation wood stoneware.
Porcelain stoneware vs parquet
To conclude, what are the advantages of wood look porcelain stoneware compared to traditional parquet? Although many people believe that only the natural material provides the ancestral impressions of wood, its warmth and its mood, ceramic technology has now achieved extremely high standards in the accurate reproduction of every facet of wood, from visual features, with every detail of the veining, textures and colour, through to tactile sensations. Wood look porcelain stoneware offers obvious advantages over parquet in terms of performances: it is waterproof, and resistant to wear and mechanical stresses, scratches, stains, weather and impacts – unlike delicate, malleable parquet. As we have seen in the collections, wood look tiles are available in the most widely varying sizes, colours and finishes, to adapt to any stylistic and architectural requirements with ease. What's more, wood look stoneware requires very little maintenance and – another important factor – is on average less expensive than parquet flooring.
Wood is a material that has been used throughout the centuries and in the most diverse styles, acquiring different sensibilities, traditions and impressions: nowadays, wood look porcelain stoneware embodies all those same impressions, in a high-performing material of exquisite design.
07 February 2022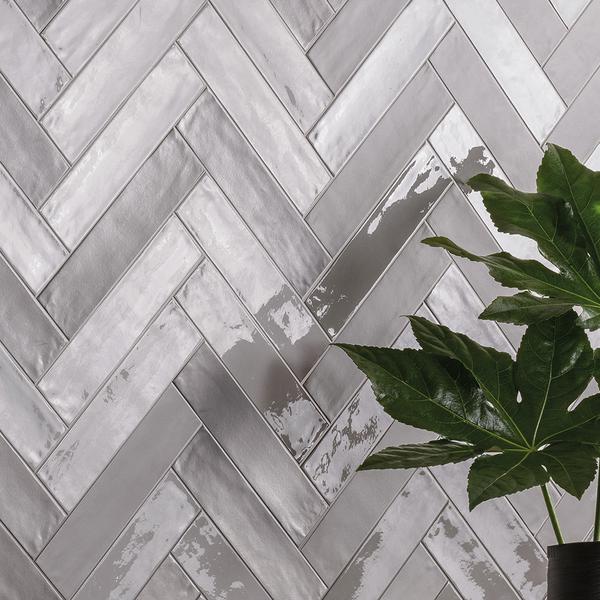 Totalook: interview with the designer