Vintage tiles: designer coverings for retro locations
The advantages of vintage porcelain stoneware tiles
Vintage. A term that is now used and abused in the fashion, design and furnishing industries. So what does it mean when it refers to the world of ceramics? Vintage tiles are researched and designed to evoke a look reminiscent of antique floors and natural materials. Indeed, porcelain stoneware, thanks to its multiple effects and versatility, is an excellent solution for creating environments that can transport us back in time while maintaining a modern style. Vintage porcelain stoneware tiles have many advantages: they are not only attractive, but also very practical. First and foremost, they are durable: they are very long-lasting surfaces which, if well laid and cared for, can easily survive for over 20 years. Secondly, they are very easy to maintain: stains, dirt, dust and signs of aging can be easily removed with a cloth slightly dampened with water and disinfectant for ceramic floors. A final, but no less important advantage is price: vintage porcelain stoneware is much more affordable than other alternative materials.
'70s tiles
The '70s triggered a desire to design furniture and lights with the aim of amazing and amusing. The influence of major artistic movements certainly characterized the style of '70s tiles: pop art, guided by the iconic Andy Warhol, led to the creation of avant-garde houses designed almost more to provoke than to be functional. Majolica and marble, two textures that were often combined together, were very popular during these years. '70s majolica was, and still is, perfect for covering bathrooms and kitchens, giving these two rooms a warm, immersive, inviting look. The colours of vintage majolica bathroom tiles often have a white base and alternate optical or floral patterns in light green, darker green, light blue or midnight blue tones, sometimes even matching certain beige or brown shades. By contrast, walking on majolica vintage kitchen tiles we notice that yellow, orange and light grey join the colours mentioned above. Entering further into the heart of houses with '70s floors we realize that rooms such as living rooms, corridors, studies and bedrooms adopt marble or wooden floors rather than majolica. This contrast between two types of covering reflects the intention of those years: to disrupt and amaze.
'60s tiles
Let's go back a little further – what was happening in the '60s? Minimalist and conceptual art started to emerge. One of its leading exponents was Roy Lichtenstein, who presented a very personal reinterpretation of the materiality and gestural impetuosity of abstract expressionism. And we cannot forget the much-debated cuts on Fontana's canvases. Here we also see "concept research" in furniture, design and flooring. The geometric patterns of '60s tiles create, voluntarily or involuntarily, wonderful optical effects that fill rooms with very minimalist and essential decor. Vintage tiles in the kitchen are very noticeable, characterizing the space and making it completely immersive and impressive. It's like diving into the past: the house becomes a mirror of a period full of history and upheaval that spawned artists and innovators who we still remember today.
'50s tiles
How about 10 years earlier? The '50s were golden years for many industries, not least the design world. They produced objects that were so contemporary that they remain true modern style icons to this day. This is why leading furniture brands continue to reproduce and showcase these designer projects: lights, objects, accessories and furniture by the great masters of design are once again manufactured, bought and used to furnish entire private and public spaces.
When it comes to coverings, the watchword for '50s tiles is urban chic. In the whole setting you can admire a totally new look: the series of urban materials with very elegant, chic elements create crazy impressions, with the aim of transforming simple rooms into spaces designed to amaze. The '50s vintage floor therefore also features tiles made from almost raw materials with very sophisticated shapes, colours and designs that were totally avant-garde for those years.
Are vintage tiles cheaper than modern tiles?
Now that we've discussed stylistic details, let's talk about prices. It is almost impossible to compare vintage and modern tiles since prices vary, particularly based on size and material. They are usually more expensive if they are more sought-after, otherwise prices are very similar. However, porcelain stoneware is generally less expensive than natural materials.
Vintage kitchen tiles
Let's enter the heart of the home and talk about vintage tiles for the kitchen. As mentioned earlier, in the kitchen there is a tendency to choose tiles with bright, warm colours, featuring an optical effect consisting of shapes and patterns that are very reminiscent of the '70s. One solution for making porcelain stoneware coverings for the kitchen truly vintage, yet timeless, is Be-Square by Emilceramica: Its large-size bathroom tiles celebrate the most essential and pure aspect of concrete, a neutral, striking, versatile and timeless material, which becomes the star of design schemes with discretion, precision and elegance. The collection is embellished by a mix of 9 decorated cement tiles, featuring shades with a balanced intensity, and by a mix of majolica tiles with a tactile surface distinguished by matt and glossy contrasts. A single decoration was chosen from both mixes of cement and majolica tiles to create strongly characterised, visually striking decorative surfaces.
Vintage tiles for imitation wood floor coverings
Entering a study or living room, you come across vintage imitation wood floors. Wood-effect porcelain stoneware is the ideal solution to lend a touch of elegance and enhance a space. The light that reflects on the surfaces gives the entire space an authentic feel, making it appear like real, living, natural wood.
Similarly with this covering, rooms are filled with a '60s and '70s feel, leaving space for very minimalist decor that perfectly contrasts with the exquisite ceramic wall coverings: dark or very light-coloured furniture, designer antique-style accessories and pastel-coloured details are delicately paired with vintage wood-effect tiles. The 20twenty by Emilceramica collection creates distinctive, unconventional interiors with a striking contemporary design. The 20x20 product becomes the star of a contemporary, dynamic, versatile and evolutionary style.
Each setting therefore consists of different finishes which, harmoniously combined, offer new creative effects.
01 June 2020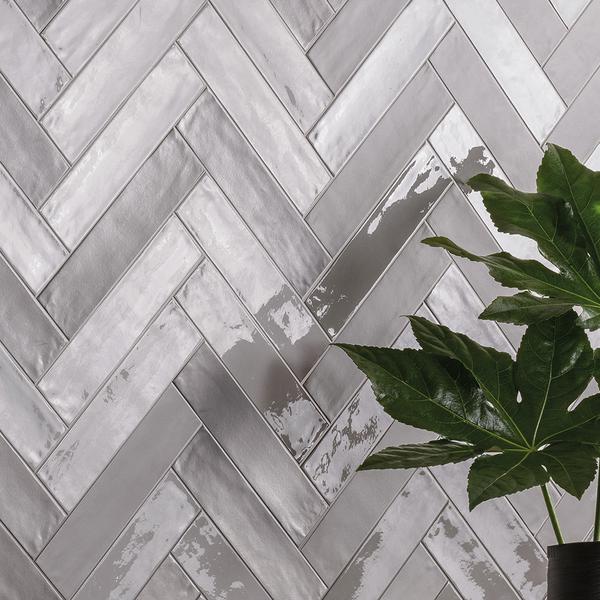 Totalook: interview with the designer