Discovering porcelain stoneware in all its nuances
Over the last few months we have discussed the different solutions that Emilgroup proposes for the surfaces of our houses, shops and exhibition spaces: walls, floors and shelves can easily feature trendy, contemporary elements thanks to porcelain stoneware tiles with varied and realistic textures. This time we are taking a step back by explaining what stoneware actually is and how it is made, while mentioning a few collection examples within an ideal furnishing project.
What is porcelain stoneware?
First let's consider the technical side. Porcelain stoneware texture tiles that reproduce some of the various natural elements that have always been the most popular choice for surface solutions (such as wood, marble, stone, quartz, and concrete) are also made from a range of appropriately selected raw materials with an extremely low environmental impact at the earliest processing stages. In practical terms, a mix of clay and a few other elements, carefully measured based on the appearance of the material being replicated, is worked with exclusive attention down to the smallest detail and dose, avoiding excess or waste. This mix is obtained through a preliminary stage consisting of atomisation of all the constituent parts: a very fine powder that already contains some of the typical properties of porcelain stoneware, consolidated with subsequent processing.
How are porcelain stoneware tiles made?
Atomisation is the basic process by which, during the pressing and subsequent firing stages, each microscopic element fuses and binds indissolubly with the others, guaranteeing an exceptionally robust result. Firing is of course also a key and delicate moment: it is carried out in large kilns at exceptional temperatures of almost 1300°C with gradual temperature variation that allows the product to form in line with high control standards. The very high temperatures 'ceramicize' the compound, which – once cooled – should have acquired certain distinctive characteristics: almost zero water absorption and evident resistance to shocks and physical and mechanical stress, while also giving the obtained porcelain stoneware realistic textures and effects.
Porcelain stoneware: texture
Ultimately, this is the point that decisively determines the choice of use: porcelain stoneware with accurate, realistic and unusual textures allows distinctive aesthetic solutions that are unprecedented in the more traditional combination of other materials. Moreover, it is long-lasting: such a complex process inevitably leads to a product with exclusive and permanent qualities that allow it to be extensively used across multiple surfaces and for multiple purposes. For example? The solutions proposed in the Elegance Pro by Ergon collection inspired by the natural vein patterns of sandstone, which offers a wide range of combinations. It is available in five sizes (a maximum of 120x120 cm and a minimum of 30x60 cm) in seven colours (Taupe, Sand, Ivory, White, Grey, Dark Grey and Anthracite) with four different surfaces: natural, semi-polished, bush-hammered (a structured surface) and mural (which creates a lively contrasting and overlapping effect with the light). The abundance of textures allows many different combination options that boast stoneware's renowned performance. However, there is a significant addition to guarantee hygiene and protect personal health: 'Shield', a silver ion-based antimicrobial production process, applied by Emilgroup to the product, which helps to block the proliferation of bacteria by reducing the risk of contamination from one surface to another. A 'double-edged' advantage, in other words when you choose a floor texture for a playroom or space that will be subjected to high footfall, you can count on guaranteed hygiene, which is simply made easier with regular cleaning
Trendy effects
Even porcelain stoneware tiles with different textures ensure a high degree of hygiene due to their waterproof properties, which are unthinkable in many other materials. Consider wood, an extensive bleached floor with large planks: this is always a very trendy choice, especially with minimalist furniture, because it reflects natural light and makes spaces feel larger. However, it is very sensitive in several respects: the treatment normally applied to it darkens and oxidises it, and over time it wears out; knocks of varying degrees mark it; it is very porous and therefore absorbs water, even imperceptibly; excess water warps it irreparably and poses a risk of mould forming. Tiles with a wood-effect stoneware texture do not pose these problems: they do not threaten either health or the environment and create the same visually aesthetic beauty. Consider Alter by Provenza, inspired byauthentic reclaimed oak wood. It is produced in four colours (Sbiancato, Miele, Noce and Bruciato) available in 20x120 cm and 6.5x60 cm sizes; the 'Incontro' decor in the 60x60 cm size complements the natural texture and is made from cross-cut wood dipped in resin. The recreated effect is highly realistic, with a detailed reproduction of oak vein patterns, and versatile, with the application of the tiles on multiple surfaces. It is a choice that is always contemporary because it can bring together minimalist and discreet touches with character and warmth that only a notion of skilful reuse and workmanship can guarantee.
High-quality porcelain stoneware
Alter by Provenza porcelain stoneware with a wood texture can be easily matched with the colours of stone, creating a natural ensemble: all the nuances of this material are not limited to the choice of a collection, but are also reflected in the imaginative and tasteful combination of the many proposals. The Landscape by Emilceramica collection may be the right choice to discreetly add a lively touch: it includes various stone-effect porcelain stoneware solutions with textures inspired by the limestone elements used for some of Italy's greatest monuments. Featuring a restrained tone and shades, Landscape's strengths lies in its wealth of very fine details. The four colours (Avorio, Sabbia, Cenere and Antracite) are used in five rectangular or square sizes with a special option: 'Opus', stoneware tiles with a 'split' stone effect in 20x30 and 20x20 cm sizes. Naturally, there are also the usual mosaic and staggered strip tile solutions, while the decor available for each size – in keeping with a discreetly elegant style – is a pattern with raised linear stripes.
Landscape, however, does not end here. Studies conducted in Emilgroup's R&D laboratories on the quality of materials and possible aesthetic and technical innovations have led to the application of new technology: 'SilkTech', which increases the coefficient of friction of porcelain stoneware, making it anti-slip while giving it an almost silky smooth surface.It therefore offers two advantages in one: totally new aesthetic and tactile pleasure and a real help in terms of safety in daily use. This eliminates the need to constantly think about cleaning and maintenance: 'SilkTech' tiles have a very long guaranteed lifespan and require the same relaxed care as any other porcelain tiles.
05 July 2021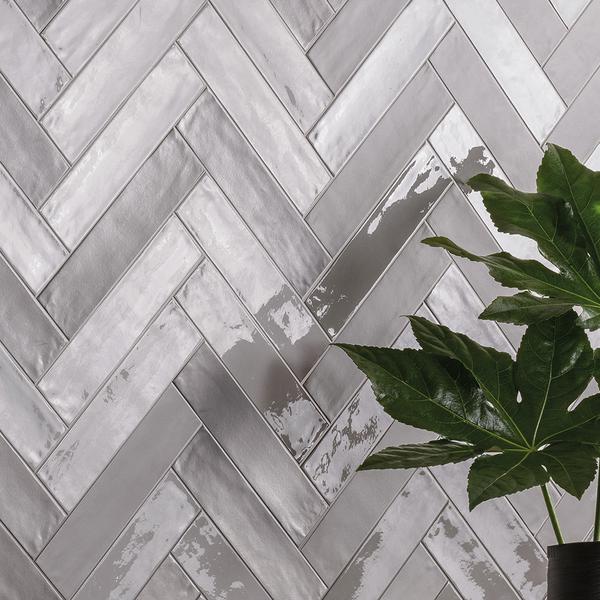 Totalook: interview with the designer