Calacatta porcelain stoneware tiles for high-impact aesthetic finishes
Marble has a place in the artistic imagination as the most noble of the stones. It is the direct synonym of elegance, prestige and sumptuousness. It is a material of timeless beauty: the immortal seduction in the curves of sculptural figures, the masterful sacredness in the profiles of cathedrals.
Calacatta porcelain stoneware is able to pass the most arduous test: grasping this shared imagination, reinterpreting its perceptions and bringing it unaltered within the confines of modern interior design.
Calacatta is one of the most prestigious and popular varieties of marble. The pale white background with marked veining in a wide range of colours, nuances and subtones are able to establish dialogue with the most popular styles of furnishing and design. Calacatta porcelain stoneware tiles insert themselves in masterly fashion into contemporary design spaces. The most traditional field of application is in the bathroom, where marble brings to mind ancient spas, in perfect dialogue with the waters, for an environment designed for the luxury of day-to-day well-being. Marble-effect porcelain stoneware tiles are also of great aesthetic impact in living areas, however – a refined choice which reveals great personality and never ceases to amaze. They have a unique charm, which transcends temporal coordinates and intended uses.
Calacatta marble-effect floor tiles: sizes and colours
Flooring is often seen by designers as a milestone in a design project. It is a choice which establishes temperatures and intentions and helps build up ideas and combinations. Selecting calacatta marble effect floor tilesis like placing an artist's canvas in our design space. It is a solution of undisputed aesthetic intuition, to be completed with a knowing stylistic environment with refined tastes.
The strength of calacatta porcelain stoneware is the fidelity of the tiles to the natural marble: Emilgroup's solutions stand out due to the scrupulous attention to every detail, every millimetre of the veining. It is an authentic reproduction of the original, further perfected by the choice of large-size slabs: the large surface areas reduce discontinuities and the impact of the grout joints in favour of seamless sinuousness. From the versatile 60x120 calacatta tiles right through to the very large sizes, we should remember that when it comes to marble, the possibilities are wide and multi-faceted, also in terms of the colouration.
Level Marmi by Level is tangible proof of this. This collection celebrates the majesty of marble in large-size 160x320 and 162x324 tiles: the creative aptitude of art, the dimensions of a masterpiece. Ideal for calacatta marble effect floors, but also for worktops and splashbacks, wall coverings and shower enclosure walls, the Level Marmi catalogue is full of expressive opportunities. There are fully 24 available colourations, of which the Calacatta, Calacatta Black and Gold, Calacatta Renoir and Paonazzo versions stand out. A peerless palette, to break down the charm of marble into original design potential.
The design of porcelain stoneware: why choose calacatta?
Sculpture and architecture, tradition and design Calacatta porcelain stoneware is able to connect artistic inspirations and design requirements Of all the types of marble, it is precisely calacatta which wins over designers due to its unmatched natural characteristics. Unlike the more common Carrara marble, with which it shares its geographical origins and general appearance, the background of calacatta is whiter, clearer, and with thicker and more consistent vein patterns. Another key difference – that the calacatta marble-effect slabs are able to replicate with masterful effect – is the temperature of the surfaces. While the dominant subtone in most marbles is rather cool, calacatta is also available with warmer background tones, perfect for bringing light into the room, rebalancing temperatures and combining a wider range of colours and finishes.
Calacatta marble-effect tiles, due to their ability to combine the sumptuous and timeless charm of marble with the design aptitude of designer porcelain stoneware tiles, represent an ever-increasingly popular solution for creating spaces of great aesthetic, evocative and emotional impact. Tele di Marmo Revolution by Emilceramica is an essential benchmark in this respect. Eternal beauty is the ideal to which this collection aspires, revolutionising marble in a contemporary key and creating art in the expression of the indestructible. Suggestions and reflections, veining and opalescence stratify into four refined main colourations: Thassos, Calacatta Black, Verde Saint Denis, Blu Ande – available in a range of sizes and thicknesses designed to adapt to any and all requirements. The scenographic perfection of the surfaces evolves in the Acanto version: a floral-inspired design typical of the classical decorative arts, based on the minute geometry of the mosaic.
Characteristics and unusual features of calacatta porcelain stoneware tiles
The nobleness of a precious material at the level of art and design starts out from its origins and specific composition. Calacatta is quarried primarily in Carrara, Versilia and Garfagnana in Italy; it is a fine-grained Apuan marble, with a warm white background and prominent veining, graduated and iridescent, in a colour spectrum ranging from yellow to grey, with green and purple tones. It is precisely the colour of the veining which distinguishes the variety.
Among the characteristics of calacatta porcelain stoneware tiles which are most appreciated in the interior design field are undoubtedly the warm background colour and the three-dimensional luminosity of the surface.
It is important to point out how a porcelain stoneware finish can bring these rich aesthetic perceptions within reach of any living space, not only from an economic point of view but also in terms of the convenience and versatility. Porcelain stoneware is less expensive than natural stone, and is easier to install and maintain; it offers exceptional resistance to impacts, chemicals and the elements, and is unaffected either by thermal shock or moisture. It is precisely this excellent technical performance, combined with the wide range of expressive possibilities, which makes calacatta porcelain stoneware tiles a real leader in contemporary design.
Tele di Marmo Reloaded by Emilceramica is dedicated to exploring the contemporary nature of marble. The collection continues the interpretation of marble, bringing out its architectural strength and aptitude for design. The five main colours are named after the stones and some of history's most celebrated artists: from Quarzo Kandinsky to Onice Klimt, passing through the lyricism of Calacatta Gold Canova. The jewel in the crown of this collection is its extensive catalogue, with a generous decorative range: seminato di tessere,doghe,battuto di listelli. Unexpected geometric combinations to renew the ancient enchantment of marble, every day, on every surface.
19 May 2022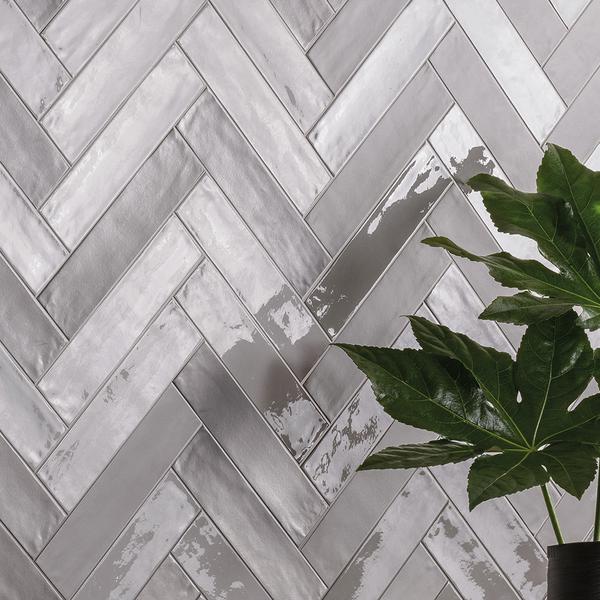 Totalook: interview with the designer