Majolica-effect porcelain stoneware tiles
Majolica-effect floors for a modern and distinctive look
Majolica effect porcelain stoneware is the perfect choice for anyone wishing to design a fresh, innovative, modern, stylish interior: with this effect, your floor covering sets the latest trend, with stunning results, and others will be unable to resist adopting it for their own locations and interiors.

An effect that enables everyone to express their creativity and give great personality to their interiors: with majolica effect tiles, it is easy to set your imagination free. The tiles' constituent porcelain stoneware material makes floor coverings tough and safe, and also provides excellent guarantees of low maintenance requirements.

Stylish projects with outstanding design content can be achieved with majolica effect floors: generating trendy combinations and creating unique looks will be relatively effortless. Just choose from our collections:
-Totalook: a combination of different materials provides a unique, modern, classy yet fresh and dynamic result. With this collection's majolica tiles you can choose your desired effect from a mix of resins and bricks.

- Tr3nd: a collection designed to delight the most demanding architects and tastes, as the gleam and symmetry of the majolica effect tiles create an impression of order and spaciousness. 

Majolica effect tiles are therefore perfect for any location, from the largest outdoor or indoor spaces to smaller locations that require great stylistic character to make them unforgettable. In fact, a majolica effect floor covering is the key to the creation of very trendy interiors and styles, as well as being ideal for the most unusual, distinctive combinations: excellent results are guaranteed.

For a lounge in a completely modern, contemporary style, a kitchen with stunning design, or a seaside home with plenty of room for relaxation, creativity and carefree enjoyment: majolica effect porcelain stoneware provides the desired result in every case.

With majolica effect porcelain stoneware coverings you can strike the right balance between elegance and verve, giving the whole design scheme a unique modernity and brightening it with fascinating light/dark contrasts and effects. 
The shine and rich tactility of majolica are excellent for giving a location a simple personality that is still full of details, transforming minimal design into the trendiest style statement. What's more, the strength of the porcelain stoneware material provides long-term guarantees.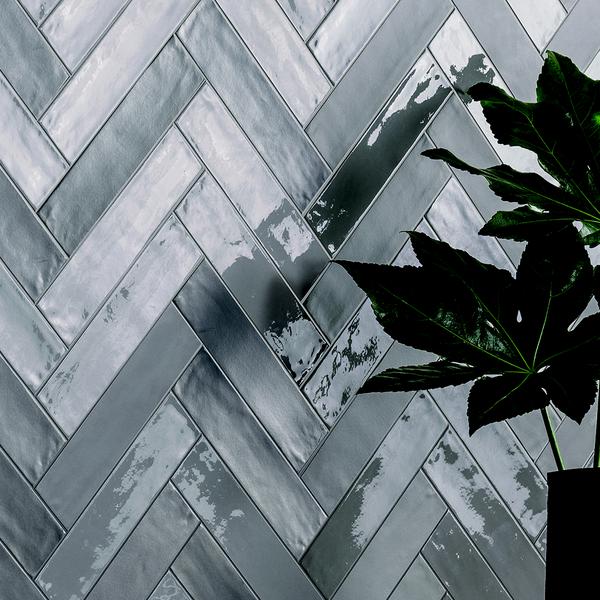 Totalook: interview with the designer