Terrazzo-effect tiles: modern elegance
A highly refined covering with centuries of history. Created to decorate noble homes and for many years known in the European courts as grit or Venetian Terrazzo, today it is more simply referred to as "terrazzo".
Terrazzo-effect tiles are extremely fashionable, not only for those that want to design highly elegant spaces but also for those who are after a modern and contemporary look. A blend of marble, glass and stone fragments that brings a timeless harmony – evocative of the historic palaces of the Triveneto – to all kinds of settings.
Extremely precious and delicate Venetian Terrazzo floors are perfectly recreated using highly resistant, practical and easy-to-lay terrazzo-effect tiles in porcelain stoneware.
What is Terrazzo?
Before answering this question, let's ask another: do you want to recreate the timeless charm of historic palaces with their geometric decorations, meanders and borders? If you do then Terrazzo is just the solution. In fact, the old Venetian Terrazzo tiles were a genuine mix of fragments of natural stone and coloured marbles of different sizes, held together by cement, which decorated the noble villas of yesteryear. The technique used to produce them was very complex, almost an ante litteram example of creative recycling, and resulted in extremely large "marble carpets" which, with their elaborate figures and designs rich in nuances and optical effects, were used to decorate floors.
Origins of Venetian Terrazzo
It is mistakenly believed that Venetian Terrazzo originated in Venice but this is not the case: its roots can actually be traced all the way back to Ancient Greece. It was subsequently brought to Italy by the Romans and, several centuries later, during the Renaissance, it was used to decorate the floors of the noble palaces of the Serenissima.
Porcelain stoneware: a modern reinterpretation
But, having taken a step back in time, let's return to the present: why and where can we find classic Venetian Terrazzo tiles nowadays? The first part of this question was answered earlier in the article: nowadays people want increasingly functional spaces that are nonetheless able to transmit style, elegance and originality, and this is why porcelain stoneware is chosen for such delicate floors. This choice makes it possible to use Terrazzo-effect tiles in the home which, as well as perfectly recreating the classical look of centuries past, also guarantee extremely elevated technical qualities and performances.
Medley, Terrazzo-effect tiles
As for where, the answer is the Medley by Ergon collection which offers a contemporary reinterpretation of Venetian Terrazzo.
This project guarantees maximum creative freedom and perfect technical efficiency, and consists of a selection of ceramic materials that are perfect for those who like to experiment. Medley has two concrete variants, Minimal and Tecnica, as well as 3 Venetian Terrazzo versions, Classic, Rock and Pop, which differ in the size and shape of their constituent pieces.
In order to evoke the compositional principle of the classic Venetian Terrazzo tiles, the collection consists of geometrical weaves that modernise and update the historic style to create new solutions which experiment with various combinations of patterns and colours and provide a fresh injection of creativity.
Another reason to choose Medley? Without doubt its versatility: it is adaptable and flexible, suitable for different types of spaces – from the bathroom to the bedroom, from private homes to museums – which however share the refinement and sophistication of timeless yet contemporary Venetian Terrazzo floors.
Terrazzo effect for the bathroom floor
One of the most suitable rooms in the house for Terrazzo-effect tiles is the bathroom, our private little haven away from the rest of world. The highly particular and artistic textures of these coverings are perfect for the well-trodden floor of the bathroom, a place where we all shut ourselves away to enjoy a few moments of peace and relaxation. It is also the place where we get ready for the start of a new day, where we look after and pamper our bodies, and we want to be able to do so in a room that reflects our inner souls.
Here are a few examples of how to recreate the refinement and elegance of centuries past in a modern bathroom. Have you ever thought of combining Venetian Terrazzo-effect porcelain stoneware tiles with a blue sink? And, perhaps, with a few details, like the taps, in a cream colour? To design a bathroom with this particular effect it is certainly a good idea to offset the dynamism of the tiles with full and flat colours for the furnishings and fixtures.
Another shade that goes well with grit is taupe or beige, with a few pastel details, excellent for both vintage and contemporary styles. Last but not least: remember the light! Ensure that your bathroom lighting showcases the Terrazzo-effect tiles: fill the space with very dark items of furniture which reflect the light and create amazing chiaroscuro effects throughout the room.
Modern kitchen with a retro touch
Now let's move into another equally lived-in room of the house: the kitchen, another space that welcomes Terrazzo-effect tiles with open arms. Like in the bathroom, it is also nice to experiment with furnishings of different colours and finishes in the kitchen: if you choose a granulated porcelain stoneware for the floor, backsplash and worktop, it may be a good idea to opt for light wood furnishings, perhaps in birch, which give the room lots of light and depth.
Treading a floor covered with Terrazzo-effect tiles should be a pleasure and so the kitchen decor should ideally be understated, soft and welcoming. Dynamism, character and originality is already provided by the splendid effects of this material so it is advisable to choose flat colours for the chairs, furniture and table, very light solid colours like cream, beige, pearl grey or antique rose.
In this type of kitchen, the little details can also make a difference: matt gold taps are an excellent choice for adding an additional touch of elegance to the overall look. Whereas in the past classic Venetian Terrazzo tiles were synonymous with nobility and wealth, today we use them in equally important settings where our design choices create a much more modern and contemporary form of elegance.
A triumphant return
It was only a matter of time before this classic floor covering underwent major restyling and returned triumphantly to our spaces. But, having been used in noble homes, when did it become fashionable again? Initially it was a more popular and certainly more economic floor tile compared with the previous penchant for Liberty decorations. We traditionally associate Terrazzo-effect tiles with the kitchens or bathrooms of our grandparents, with whom the marble chips were particularly popular for their superb ability to conceal stains.
Having subsequently fallen out of fashion, also because of the randomness of their colours, they have now returned in style and it is remarkable just how versatile they are. Venetian Terrazzo-effect porcelain stoneware tiles are not just used to create brand new floors but, thanks to their incredible texture, are also the inspiration for items of furniture, accessories, decorations, work surfaces, desks, countertops and genuine wall coverings.
In short, that whimsical allure which brings to mind the slippers we used to wear so as not to ruin grandma's floor has been transformed into a highly fashionable vintage-style solution which exudes contemporary elegance.
18 February 2021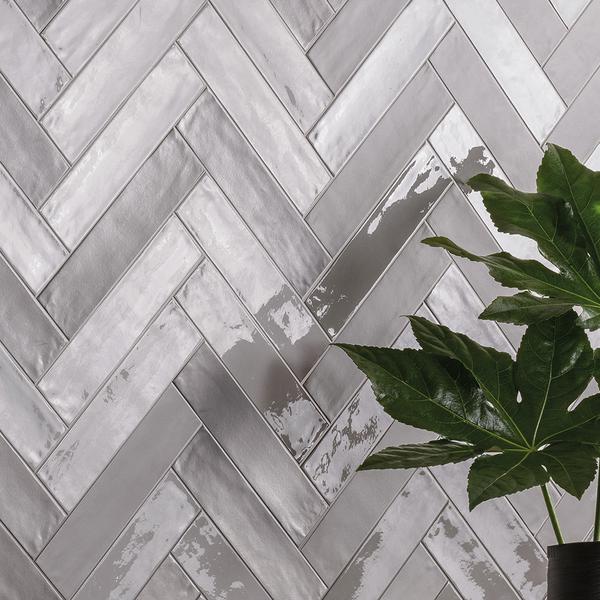 Totalook: interview with the designer