How to get a high-end vibe with elegant high gloss floor tiles
Bounce the light with white high gloss floor tiles
It isn't just a cliché: a room's lighting greatly impacts the well-being of those who spend time in it. Consider the importance of light in an environment like an office, where most people spend the majority of their day. It also plays a significant role in the home: relaxing in well-lit rooms is essential for recharging after a long week of work. Brightness can shape a space, enhancing details and facets. When we talk about lighting home environments, we don't just mean using a lot of light bulbs, but taking advantage of natural light by enhancing the first feature that we use to characterise a house: the floor. High gloss floor tiles, in particular, are an excellent way of reflecting the light that enters the whole house through the windows. This bright effect is even more evident if you opt for white high gloss floor tiles since this surface tends to further reflect the light, increasing the impression created by white, the color with the lowest absorption.
The natural shine of marble tiles
Among the many materials that can be used to furnish a house, high gloss porcelain floor tiles with a marble effect are perfect for giving every room an impeccable shine and, above all, a totally natural look.
One of the Emilgroup collections that stands out for its elegant luminosity is Level Marmi. Its ceramic slabs make it possible to create objects such as tops and backsplashes for kitchens and bathrooms, worktops, tables, doors and floors, offering detail, versatility and customization. Level also guarantees the highest degree of freedom of expression and is the ideal medium for architectural design in step with the latest, most innovative trends.
If you choose this gleaming floor, it will be the room's standout feature: to accentuate its brightness, you can position a crystal chandelier on the ceiling so the light produced reflects on the floor, creating incredible light and shade effects.
Energize a living room with a highly polished finish
In what rooms are high gloss floor tiles most impressive? The living room, for starters. It is the heart of the house, the most welcoming area where you can relax while watching a movie, listening to music or reading a good book. It is the space in which the whole family gathers to enjoy moments of peace. However, the living area is not always only made up of soft sofas and armchairs, but is often used as a cozy dining room where you can enjoy dinners together with friends.
Since this room is frequently used, it should be meticulously designed, creating an elegant atmosphere with materials that brighten the space, such as marble-effect porcelain stoneware.
Among the latest design trends, black high gloss floor tiles are a must-have: Calacatta Black by Tele di Marmo Revolution is an excellent way of adding this dark color to your living room. Should you wish to opt for other shades, this Emilgroup collection offers other colors: Bianco Thassos, Verde Saint Denis and Patagonia. Tele di Marmo Revolution, with its four natural and semi-polished marble options, achieves its highest expression in the large slabs, in which the Acanto artistic mosaic is distinguished by its precise and extremely calibrated geometrical patterns, shades and details. This highly expressive decoration makes the project a complete covering solution in which veining, reflections and details become a work of art.
High gloss patterned floor tiles: the luxurious touch
There is no doubt that high gloss white floor tiles or tiles in dark colors are the best way of making your house truly elegant. Even when it comes to the less central areas, such as hallways, it is important to ensure that they have the right shine so that they harmonize with the elegant style that you wish to give the house. For an exquisite aesthetic effect with a timeless style and class, high gloss cream floor tiles are among the most popular in the design world. In addition to their unique and ultra-modern effect, high gloss floor tiles are widely used due to their numerous functional advantages: the thickness of the porcelain stoneware slabs and their density make the whole surface resistant and practical. This covering also visually increases the space, which is a very effective way of enlarging small rooms. Last but not least, marble-effect porcelain stoneware has the great advantage of being less slippery than many other materials used to design surfaces.
Match it with backsplashes in the kitchen
Another of the most lived-in spaces in the house is the kitchen, a room that must be functional, well-organized and designed to cater for every need. However, as with the other rooms, aesthetics cannot be overlooked. This is why high gloss kitchen floor tiles perfectly combine functionality and elegance. In keeping with the marble effects in the rest of the house, we can furnish this room in the same style: in the kitchen, marble can be used to design various furnishing accessories, such as backsplashes, tops and tables. Emilgroup's large Level Marmi slabs enable the creation of a very luminous, uniform environment, matching the flooring with the other elements present in the room. For example, cream-colored marble floor tiles can be perfectly paired with a glossy white top.
Mix glossy and matt finishes for a unique effect
If you want your home to have an unmistakable personality, be inspired by the most distinctive mixes. Combining marble high gloss floor tiles with surfaces, furniture, stairs, doors and windows featuring matt shades, "raw" forms and an industrial style can give the entire living space an incomparable contrasting effect. In addition to style combinations, it is important to also consider color schemes: if you have opted for white high gloss floor tiles, you should choose furnishings, furniture and curtains in beige or taupe shades. If your home contains high gloss cream floor tiles, choose furnishings with warm shades: burgundy, orange, red and ochre.
01 July 2020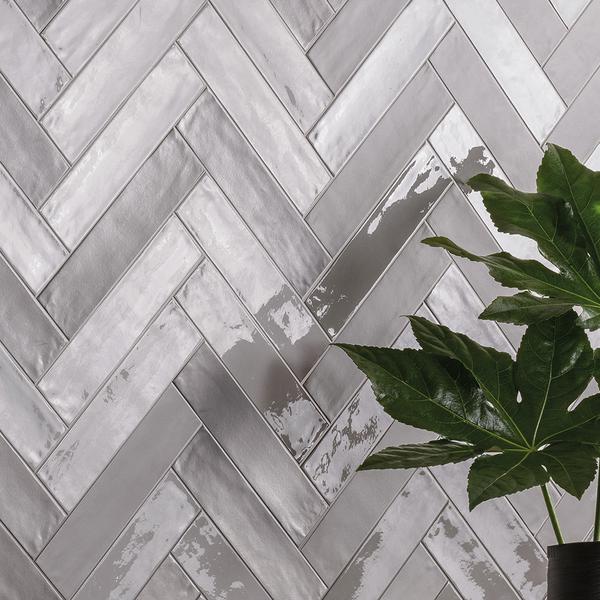 Totalook: interview with the designer