How textured bathroom tiles can make your bathroom stand out
Ridged surfaces for a tactile experience
The bathroom was once a purely functional room in the house and its decor was often overlooked. Today this is no longer the case and thanks to the efforts of interior designers it has become one of the most impressive parts of the house: taps and bathroom fittings boast sculptural designs, while curtains and coverings resemble works of art. Caring for your body is a more pleasurable experience if you are immersed in a bathroom that is not only comfortable, but also visually appealing. This is why it is important that the decor helps you to relax, starting with the coverings. You can let loose by choosing new tiles and paints, filling every corner with color and vitality. Textured tiles for the bathroom are among the latest interesting interior architecture trends. They create completely new effects based on the sharp tactile and visual contrast between the coldness of ceramic and the color of the fabric they resemble. There are many varieties of textured bathroom wall tiles, including delicate designs, classic patterns such as floral or animalier motifs, horizontal or vertical stripes, undulating shapes and finally genuine textile textures such as the weave of plain woven fabrics that emphasizes the regular interlacing threads. In short, there are many variants: now you just have to let your imagination run wild!
Horizontal lines to add depth to a small bathroom
We tend to associate a large bathroom with greater relaxation. This is a mistake: bathrooms are not necessarily spacious and it is important that they are well-organized and meticulously designed. Even if you are dealing with a small bathroom, it just takes a few tricks to make the room more visually airy. For example, choosing textured bathroom tiles with horizontal stripes will make the walls look taller, while light colors will accentuate the feeling of width. To increase the depth it is very helpful to mount a mirror near a window and never opposite a bare wall: you can only make the room seem larger by reproducing the space.
3D tiles for stunning shower interiors
Luckily for every style lover, the ceramic covering industry is very creative and never ceases to amaze with increasingly avant-garde products, such as 3D tiles. They create a real wow effect in the bathroom: combinations of geometric designs, colors and decorations, triangular, square and hexagonal shapes, together with reliefs and engravings create an unprecedented dynamic look. The three-dimensional tiles are ideal for creating splendid shower interiors in which you can pamper yourself in an inviting environment in line with the latest trends. If your room is dominated by grey textured bathroom tiles, you can opt for a very clear or even neutral color to design your shower enclosure. This color combination gives the entire bathroom a contrasting look that produces interesting light and shade effects. Moreover, if the white textured bathroom tiles used for your shower enclosure are well-exposed to light, the sunlight will create intense, pleasing light effects.
Textured bathroom tiles are perfect for tactile walls
Textured bathroom tiles are ideal for designing bathroom walls with a material look. They represent the starting concept on which the room's entire design is based: the choice of style, finish, designs and colors for the furniture, bathroom fittings and lighting. They are walls that can be described as "sculptural" because, just like a sculpture, they lend movement and three-dimensionality to the space they inhabit. They offer unparalleled shapes and harmony, making the art of furnishing a key element throughout the bathroom, while conveying a pleasing sensation of movement and well-being.
Embossed wavy tiles
In addition to more generic themes that create geometric designs, 3D tiles are perfect for recreating movements like the waves of the sea. The undulating relief effect creates sinuous, intimate and sensual shapes that are suitable for a wall on which a bathtub rests. These kinds of pattern, which do not have edges and are matt, are not excessively showy, but elegant, sophisticated and soft, making them suitable for a private room like the bathroom. At the end of the day, relaxing in an environment that evokes the sea will be one of your favorite experiences at home. The Dolcelinea Decor in the TotaLook by Emilceramica collection features this "textured" characteristic. The collection explores the world of resins with a new project: a complete range of matching ceramic materials that allow designers to create architectural spaces featuring a single color, a total look, while ranging between rooms with varied inspiration, playing with different surfaces, volumes, decorations and sizes. From an aesthetic perspective, the TotaLook by Emilceramica color palette features a wide range of possible combinations for designers and therefore offers great compositional freedom.
Mix up styles and shapes
Inside the bathroom it is advisable to create captivating patchwork effects with different types of tiles: mixing the style of several wall coverings is ideal for unique projects. Two collections that can turn a simple bathroom into a special and spectacular environment are Medley and TotaLook. Their characteristics are as follows: Medley by Ergon is the result of a contemporary interpretation of a symbol of pure classicism, namely Venetian Terrazzo. The collection features a range of ceramic materials developed for interior design and architectural experimentation. It consists of two concrete variants, Minimal and Tecnica, and 3 Venetian Seminato versions, Classic, Rock and Pop. Medley's geometric weaves use graphics and colors to experiment with new combinations, encompassing more creative research. The combination of these Seminato materials, with their strong personality, generates an original variety of ideas for extreme design freedom for your bathroom. This collection is flexible, malleable and also suitable for other different types of room. Medley will create striking new combinations of material and light, guaranteeing maximum design freedom combined with technical excellence.
01 June 2020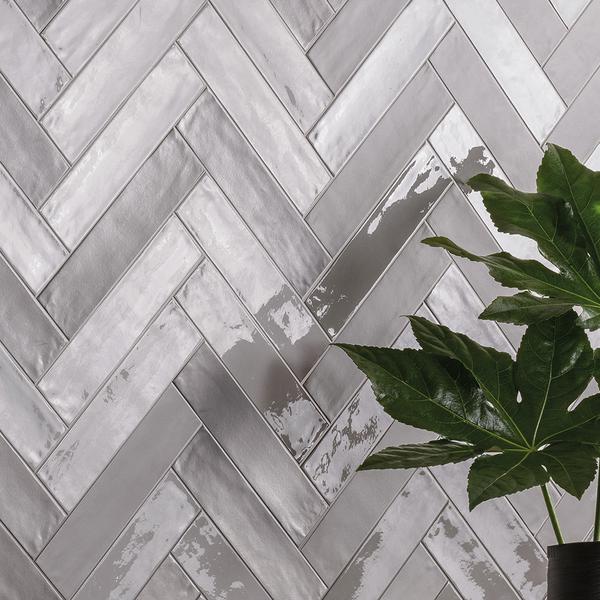 Totalook: interview with the designer