Interior design trends for 2021
School, office, gym, restaurant, bar... Our homes have been all this and more in the last year. The global pandemic has seen us spend more time within the confines of our domestic spaces than ever before. Our everyday lives have been transformed and we have been forced to adjust our habits to a new way of life. We have understood how looking after the spaces in which we spend the majority of our time can impact heavily on our mood, our feelings and our physical and mental wellbeing. This also inevitably influences productivity and concentration, particularly of those who work or study from home.
Making our spaces functional, attractive and welcoming is no longer of secondary importance; on the contrary, it has become a genuine necessity. The first step in this process is the choice of materials. When talking about floors and wall coverings, porcelain stoneware is an excellent choice for those that want modern aesthetic and design solutions without compromising on functionality and technical characteristics. Ceramics are definitely an extremely valid alternative because they combine quality, durability, resistance to microbes and deposits, and aesthetics.
With all this in mind, what will the house of 2021 look like? Which interior design trends will shape our next projects? The keywords that will guide our future design choices are comfort and personality. The goal will be to design domestic spaces that are first and foremost comfortable, nice to look at and functional, creating relaxing and calming atmospheres which nonetheless reflect the tastes and personality of the inhabitants. We have selected for you the biggest current interior design trends in the field of floors and wall coverings. Let's take a look at them together!
Colours, playing with nuances
The first contemporary design trend we want to talk to you about relates to colours. The most fashionable colours for 2021 will be neutral and more natural shades which can easily be matched with other decor elements to create a timelessly elegant look. Forget about black and white. Full browns and intense anthracites are yesterday's news. Instead there will be plenty of space for intermediate nuances, less saturated and strong but more balanced and comfortable. Of these, the most sophisticated remain those that revolve around greys and shades similar to taupe, colours that transmit the calm and security we really need at the moment, at least inside the four walls of our homes.
One of the collections that best embodies this trend is the versatile and sophisticated TotaLook by Emilceramica series. It consists of a palette of extremely soft and pleasant tones which are most effective in minimalist and refined spaces that require a touch of homely warmth.
 
The classic looks that never go out of fashion
Floors reign supreme, as you know, and to achieve a balanced result in a room you have to pay attention to the consistency between furnishing and tiling style choices. In 2021 the most fashionable tiles will be those with a classic style, inspired by natural elements – wood, marble, stone – sometimes also with a contemporary twist.
On the surface, this may appear a contradiction in terms. Yet, combining more classical materials with decidedly more contemporary elements can produce eye-catching results. Both in terms of furnishings and choice of floor. In terms of tiles, the brand new Unique Travertine by Provenza series, the perfect combination of classic material and contemporary design, is a stand-out example. Totally inspired by the famous Travertine stone, the range consists of four neutral shades which, echoing the tactile qualities of the material, come in four different finishes. Its nature and variety of colours make it extremely versatile: in fact, as well as the perfect complement for more rustic and wooden furnishings, it also goes just as well with contemporary design elements.
Sizes, the harmony of forms
Another interior design trend we will see in the area of floors and wall coverings will be the creation of harmonies of colours, materials, and above all forms, in spaces. In this sense, surfaces will allow other furnishing components to take centre stage: without overpowering them, they will complement them, highlighting them and providing balance.
Of the Emilgroup collections, Landscape by Emilceramica, inspired by classic Italian limestone, is the perfect expression of this harmony: an understated and minimalist series with bright but restrained tones, elegant vein patterns and delicate tone-on-tone nuances. In fact, the shades – Avorio, Sabbia, Cenere, Antracite – are both soft and relaxing, perfect for creating extremely welcoming and intimate atmospheres. The series also boasts a wide array of sizes and decors with multiple textures and finishes, permitting an infinite number of combinations and plenty of interesting form and volume effects to provide solutions for all kinds of indoor and outdoor settings. Landscape embellishes environments with incredibly soft surfaces to create spaces of completely original aesthetic and tactile appeal.

Future, environmental sustainability
There is little doubt that one of the biggest interior design trends will be the growing prioritisation of sustainable design concepts. In 2021 the design choices adopted for interiors will necessarily involve a consideration of sustainability issues. It won't simply be a case of opting for eco-friendly decor. When it comes to tiling, particular attention will be focused on the sustainability of industrial production methods and glazing processes. Emilgroup takes the environmental impact of its products and business processes very seriously and this is why we have chosen to adhere to the sustainability principles of the green building rating systems.

But sustainability doesn't mean compromising on modern, fashionable and contemporary designs. A good example of this can be seen in one of the Viva brand's latest solutions, the Metallica collection, for contemporary and cutting-edge spaces. The series proposes numerous different colours, sizes and finishes, from bricks to large slabs: taking their inspiration from iridescent metal, they give floors and walls a modern feel.

Health, antimicrobial tiles
The events of 2020 have made us reflect on the way we sanitise and disinfect everyday surfaces. For this reason another interior design trend will be that of studying spaces with particular focus on this aspect: the desire for clean and hygienic living spaces, whether domestic, public or commercial, is now widespread. Anticipating this need, Emilgroup has investigated the possibility of developing ceramics with integrated antimicrobial properties. These studies have resulted in the new Shield process, applicable to all of the floor and wall tiles in the collections with a natural surface thanks to an innovative technology directly integrated in the production process.
01 February 2021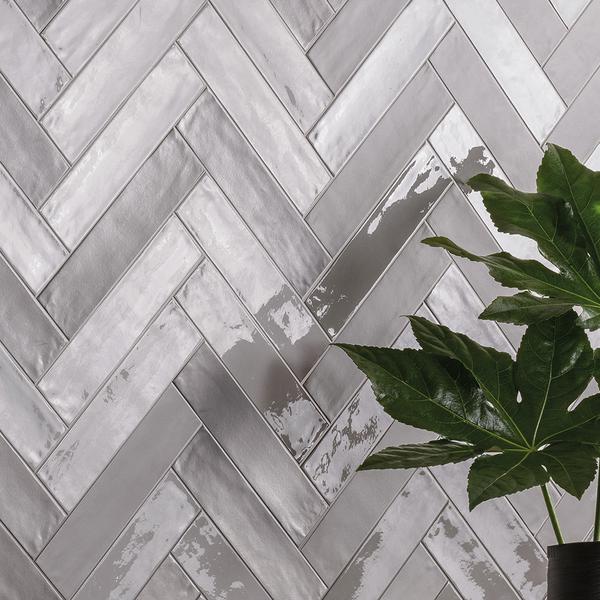 Totalook: interview with the designer