Kitchen coverings: how to choose the tiles for your kitchen
The kitchen has always been one of the favourite rooms in the home. Recent years have seen it develop into a multipurpose space: once used only to prepare meals, it's now a room where we gather, spend time together and socialise. Because while it's true that the average time spent actually cooking is decreasing year after year, it's equally true that a beautiful kitchen is the perfect place for unwinding with a glass of wine after a long day's work.

Porcelain stoneware tiles, with their intrinsic characteristics - they are non-absorbent, easy to clean and anti-bacterial - and their stylish good looks, allow endless combinations, thanks also to large slabs that make perfect worktops. Naturally, therefore, they express their greatest design potential in the kitchen.
Kitchen tiles: tips for installation
If you're eager to achieve perfect kitchen wall coverings with porcelain stoneware, all due care must be devoted to installation.

Careful planning is required in order to understand how to use tiles in the kitchen. Engaging the help of a design studio or an interior designer can be a good idea in order to form a clearer picture of what the finished effect will be. It's also important to discuss your plans in detail with whoever will be laying the tiles in order to prevent any misunderstandings or problems from arising. Follow the instructions on how to install tiles in the kitchenstep by step for a uniform, properly installed wall covering which will be easy to clean and maintain for years to come.

One of the most frequently asked questions, without a doubt, is how to calculate the right height of tiles for a kitchen with no wall units.Of course, there's no one-size-fits-all answer, as it depends on the space and the desired effect, nonetheless the absence of wall units allows far more freedom as regards the choice of tile size and installation pattern.
Tiles for a modern kitchen
Following trends for 2020, we come to the choice of tiles for a modern kitchen. To achieve the look, it's a good idea to install a sophisticated, on-trend wall covering. In terms of tiles, "on trend" today equals a gloss finish, very light yet vibrant colours and distinctive shapes and patterns (with sharp corners and narrow joints). In kitchens, cabinetry and furnishings take precedence: wall coverings should enhance the space, without being overpowering. The current trend is for smart, minimalist kitchens which are nonetheless cosy and welcoming, perfect spaces in which to spend some time.

A modern style for kitchens can be associated with the colour black, and one of the trends for 2020 is indeed very dark kitchen cabinetry: in this case, wall and floor coverings can opt for lighter shades that still exude a certain warmth, providing contrast without jarring with the tonal harmony.
Designer materials to cover your kitchen walls
For a kitchen which is in step with the times and trends, as always you have to do some research. The first step, for sure, is to choose the most suitable materials: these must be designer, sophisticated, original and above all practical.

Examples include: double-fired tiles, laminate panels, epoxy resin, self-adhesive tiles and porcelain stoneware. Double-fired tiles in gloss or matt white, paired for example with wood, conjure up a retro mood evocative of bygone times. The drawback to this material is the possibility of water infiltration. Laminate gives spaces a paired-back, minimalist appeal and is a hard-wearing, easy-to-clean material, making it perfect above all for professional kitchens. On the downside, perhaps, is the compromise on elegance. Self-adhesive tiles for the kitchen are characterised by easy installation and a wide variety of designs. They're perfect for creating a refined, modern look, whatever the type or style required: indeed, self-adhesive tiles are suitable for covering many different surfaces. The undoubted drawback is their shorter life span.
Epoxy resins have become hugely popular in the past few years thanks to their clean, minimalist style. However, watch out for cracks, which can develop particularly if the installation surface isn't perfectly level.

Lastly, porcelain stoneware is one of the favourite materials of choice for kitchen wall coverings:in particular, the use of large slabs allows you to create elegant solutions without compromising on practical aspects. This is thanks to stoneware's intrinsic characteristics (hard-wearing, anti-bacterial and non-absorbent), especially when combined with the absence of joints made possible by large slabs.
All these kitchen coverings and tiles vary in price, with solutions ranging from the extremely inexpensive to the exclusive.
.
Tradition: majolica tiles
A truly traditional, timeless alternative for kitchen wall coverings is tiles in majolica: a style that combines freshness, innovation, modernity and design. Majolica-effect porcelain stoneware is perfect for unleashing interior design creativity and creating trend-setting combinations that are ideal for interiors with a unique style. This special-effect stoneware is an evolution of the floor covering, given a much more modern, contemporary interpretation.

Majolica-effect tiles for kitchen wall coveringsstrike the right balance between elegance and verve, giving the whole design scheme a unique modernity and brightening it with intriguing chiaroscuro contrasts. The lustre and wonderfully tactile quality of this style also makes it an excellent choice for covering kitchen worktops with tileswhich, while understated, still offer exquisite attention to detail, transforming minimalist design into the trendiest style statement.
Simplicity: porcelain stoneware tiles
When it comes to tiles for a modern kitchen, all porcelain stoneware collections are an excellent solution: they combine simplicity with a wide range of choices.
The choice of porcelain stoneware wall coverings ranges from floral designs and geometric patterns to various different effects: wood, stone, concrete, metal, paper, brick and many others.

One example of a porcelain stoneware covering for a modern kitchen is Be-Square by Emilceramica. The collection celebrates the most essential and pure aspect of concrete, a neutral, striking, versatile and timeless material, which becomes the star of design schemes with discretion, austerity and elegance. The collection is enriched by a mix of 9 decorated cement tiles in the 20x20 size, with nuances of balanced intensity, and by a mix of 20x20 majolica tiles characterised by a tactile surface consisting of matt and glossy contrasts.
Style: kitchen coverings in marble
Talking about design, we can also talk about style in the shape of elegant, unique kitchen coverings in marble, one of the loveliest, finest and most durable materials which brings beauty to any interior. Floors are also enhanced with a unique architectural strength, that of marble. Finishes are elegant and very decorative, bright and natural, creating pleasing impressions of refinement and simplicity: an utterly refined simplicity, which only this material can bring to design schemes. Design gives way to an exquisite classical loveliness and interiors are subtly coloured by unusual, dynamic reflected light.

To create kitchen coverings with such intrinsic opulence, marble-effect porcelain stoneware is the ideal solution. Cheaper and today identical to the natural stone, it tones down the surface's classical severity, but delivers a very strong aesthetic impact. The watchwords for kitchen design schemes are elegance, light and grace, which explains the choice of this particular effect.
Not just tiles: textured coverings
To decorate and furnish a kitchen, there are various textured coverings available, not just tiles. Textures are three-dimensional coverings used for entire design projects, whose chiaroscuro effects cleverly define surfaces.

Textures used for kitchen coveringshave geometric, optical and highly abstract shapes which bring a modern, highly innovative character to the design scheme compared to more classic coverings. The latest proposals in textures include three-dimensional curvilinear patterns that endow walls with an entirely natural energy.
Kitchen tiles: cleaning tips
Having touched on the various interior design trends, let's also briefly consider how to clean kitchen tiles.

First of all, it's a good idea to wipe away any dust on the surface, then add one cup of white vinegar and a tablespoon of bicarbonate of soda to a pail of very hot water. If you like, you can add a few drops of eucalyptus or citrus essence to the solution to give it a lovely fragrance. For sparkling results, use a cloth to clean tiles and floors twice with this solution. Vinegar has natural anti-bacterial properties and bicarbonate of soda can be used to eliminate the most stubborn dirt from coverings and tiles.

Another key question is how to clean the joints between kitchen tiles: the solution with vinegar and bicarbonate of soda is perfect, and you may like to add a powerful degreaser to tackle the most stubborn grime, using an old toothbrush to scrub and get into the tightest corners.
Kitchen tiles without joints?
To avoid this last cleaning chore, a final recommendation to bear in mind when it comes to kitchen coverings is to choose tiles without joints. Let's see why this choice is so wise and indeed popular.

First and foremost, no joints between tiles equals better hygiene: cleaning joints is a complicated job and never 100% successful, as dirt and dust become ingrained. Moreover, if the room has high humidity, salts can bloom in joints.
Another good reason for choosing kitchen tiles without joints is the seamless surface thus created: aesthetically speaking, a smooth and continuous surface is certainly striking and brings elegance and refinement to any room. One final reason is versatility: the market now offers a truly vast choice in kitchen coverings without joints.

Now that you have a good basic understanding of how to choose the furnishings, coverings and tiles for your kitchen, you're on your way towards enriching your home with warmth, modernity and good taste!
01 December 2019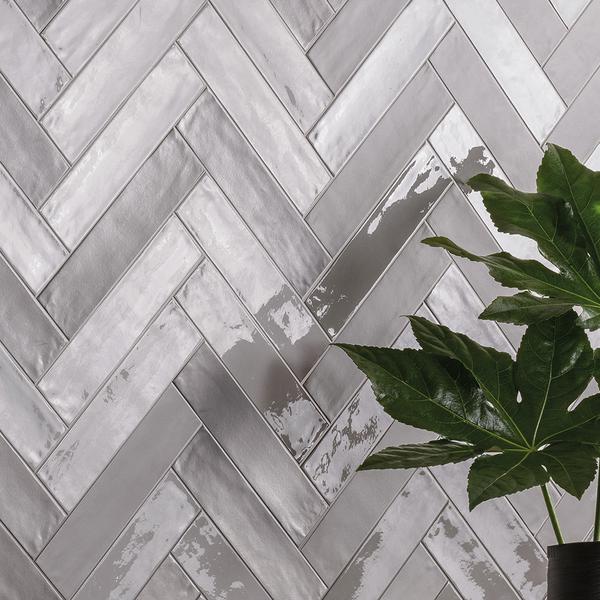 Totalook: interview with the designer