Stone - effect porcelain stoneware tiles: 50 shades of Cornestone
Benefits of stone-effect stoneware floors
Your choice of furnishing materials can help give your home a more modern feel. Natural, simple but at the same time sophisticated, stone is the ideal choice, perfectly expressing the modernity of an environment.
Let's take a look at all of the benefits stone-effect floors bring to the domestic setting.
Stone-effect stoneware is particularly resistant and low in porosity, highly impermeable to both dirt and frost.
Stone-inspired tiles are also very versatile in terms of their combinations with other materials, particularly wood-effect tiles, and never fall out of fashion.
In more detail, the strengths of this material are its resistance to abrasions, wear, rubbing and contact. As we were saying, stone-effect floors are resistant to water, humidity, fire, frost and variations in temperature.
This last reason makes stone-effect porcelain stoneware perfect for kitchen or external floors. Last but not least, they also stand out for their colour stability: the colours of stone-effect tiles do not alter, resisting atmospheric agents like smog and sunlight.
Emilgroup stone-effect stoneware collections
The Emilgroup collections which showcase stone-effect porcelain stoneware floors include the Cornerstone by Ergon collection, inspired by the Stones of the World, and the Cornerstone Alpen by Ergon collection which highlights the power of Alpine stone.
Cornerstone by Ergon offers a new interpretation of the Stones of the World based on a fresh vision and new reproduction technologies. Rare, unusual conformations, collected from every corner of the planet, characterize the stone and make it immediately recognizable, with specific identities and geological rarities. Clean surfaces obtained from quarry-hewn stone reveal details of astonishing variety.The Cornerstone by Ergon collection exalts the quality of stone-effect porcelain stoneware for interiors, making spaces uniquely rare, welcoming and sophisticated. Cornerstone is also available in the 20 mm thickness and perfect for external floors.
Cornerstone Alpen by Ergon focuses the attention on two of the most ancient and iconic Alpine stones expressing all the beauty of their distinctive colours and geological features through a design that accurately reproduces the clarity of quarry-split stone, with all its naturally stunning vein patterns and details.
Inspired by Alpine quartzite, Valser stone has a sophisticated appearance that adds a touch of elegance to every architectural space. The right balance of personality and simplicity is the secret of the exceptional freedom of expression that Cornerstone Alpen by Ergon offers today's architects, who can choose which role to assign surfaces in their design schemes thanks to porcelain stoneware's innate ability to provide the ideal backdrop to any lifestyle. Cornerstone Alpen is a perfect porcelain stoneware solution for stone-effect exteriors: the 20 mm tile makes it possible to design outdoor spaces of great aesthetic value without compromising on technical performance. The specific qualities of Cornerstone Alpen 20 mm enable the material to integrate seamlessly into the surrounding environment, making it possible to create outdoor paths easily and effectively.
Stone-effect porcelain stoneware colours
The colours of stone-effect porcelain stoneware tiles range from light to dark with defined and sophisticated tones which can all be perfectly matched together. Let's have a look at the most fashionable ones. Light grey stone-effect stoneware is an elegant and neutral shade with intriguing and versatile nuances suitable for all types of interior design. Light grey stone-effect floors are perfect for adding character to domestic and public settings, both indoors and outdoors. An enveloping and delicate colour that embellishes all spaces. This shade is even more evident when combined with wood: together they give spaces a very natural simplicity, creating the "shabby chic" effect which is now one of the most fashionable looks in the design world. The faux stone tiles in this colour are perfect for furnishing the kitchen of a private home or public space. Light grey illuminates all of the space around it, perfect for enhancing both dark and light colours, and creating the right degree of harmony, security and intensity.
Another colour that characterises stone-effect porcelain stoneware tiles is Beige. It is a neutral, easily combined shade that creates perfect, delicate hues for all traditional locations and styles. Beige also helps to create really welcoming environments. It is a hybrid colour, belonging to both the brown and the grey families, and is also subtle, in some respects feminine, very elegant and steeped in class and style. This neutral colour is able to offset more brightly coloured furnishings, creating balance in the design scheme and adding simplicity and precision. Beige stone-effect stoneware generates relaxing sensations: it is able to expand the space, adding lots of light.
Now let's talk about the third colour that characterises stone-effect floors: Slate. This very fashionable colour is perfect for countless solutions: it can be used to add a touch of style to living rooms, bars, restaurant or shops. Slate black stone-effect porcelain stoneware tiles are suitable both outdoors and indoors and in public and private spaces. It is a colour that inspires trust and exudes lots of elegance. It is a shade midway between very dark black and grey that goes perfectly with all items of beige, cream or sand-coloured furniture but also very light greens and blues. In addition, one particular feature of slate-coloured stone-effect stoneware is that all its nuances encourage relaxation, concentration and wellbeing.
Stone-effect porcelain stoneware opinions
A stone-effect porcelain stoneware floor is a blend of practicality and aesthetics. As well as being nice to look at, the floors of our home must also be practical to maintain and clean: for this reason stone-effect floors are an excellent solution. It is widely acknowledged that stone-effect tiles give spaces lots of light, elegance and timeless style. Stoneware is undoubtedly a fine and delicate material and choosing a stone-effect solution guarantees greater durability and resistance.
Stone-effect porcelain stoneware prices
Going into greater detail to talk about costs, natural stone-effect porcelain stoneware is very competitively priced. Compared with surfaces in real stone, porcelain stoneware is far more advantageous in terms of both performance and price.
Laying stone-effect porcelain stoneware
When laying faux stone tiles it is important to follow these steps: firstly you have to prepare the substrate, which must be levelled and smoothed to guarantee a level surface. The tiles are then laid according the installation layout and fixed in place. Once you have finished laying the stone-effect stoneware you can carry out the various cleaning processes. Another interesting aspect of the installation process is the choice of layout. These are just a few of the many possibilities: linear, diagonal, English style or mosaic, checkerboard, staggered, herringbone, shiplap, stairs and finally the classic "elle". This choice will obviously characterises the entire look of the living space, both indoors and outdoors.
How to clean stone-effect porcelain stoneware
Thanks to the improvements of recent years, it is finally possible to have resistant and easy-maintenance stone-effect tiles. In fact, to clean them perfectly all you need are traditional floor detergents, a vacuum cleaner and regular cloths. The new stone-effect floors are an excellent solution for stylish and tidy-looking spaces that don't require too much upkeep.
Stone-effect tiles without joints
They are easy to clean also because of the absence of joints. What does this mean? Thanks to its large 120x240 cm and 160x320 cm sizes, stone-effect porcelain stoneware without joints reduces the space between tiles, guaranteeing a series of clear benefits compared with other floors: cleaning, improved hygiene and visual continuity. Joints are the main reason for the build-up of germs and bacteria precisely because they are difficult to clean and persistent dirt accumulates in their corners. Reducing the size of joints has a notable aesthetic impact with the absence of interruptions on the floor helping to create minimalist and elegant patterns. In fact, having a continuous surface rather than tiles separated by spaces adds a touch of extra class to any setting.
Because of the absence of joints and all the other reasons mentioned earlier in the article, the versatility of natural stone-effect porcelain stoneware is quite evident. It is a kind of floor that can come in an infinite number of variations, colours and layouts, and most importantly it is a modern solution that has a strong visual impact both indoors and outdoors.
01 February 2020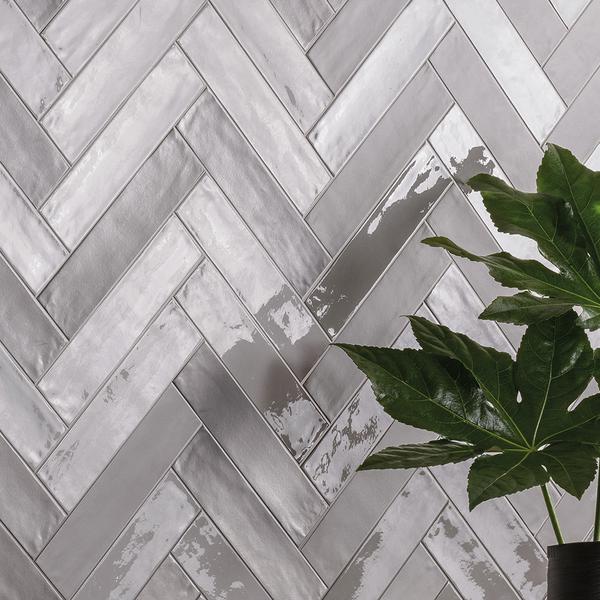 Totalook: interview with the designer