Balcony tiles: which tiles are best for a balcony?
Balcony tiles: which tiles are best for a balcony or terrace?
A taste for quality coverings starts from outdoor paved areas. These are hybrid spaces, midway between the home and the outside world, rich in potentials just waiting to be explored.
Balcony tiles play a fundamental role in defining the mood of these increasingly sophisticated, carefully styled locations. In fact, people are increasingly using balconies and terraces as places for living their daily lives outdoors with every home comfort, so choosing the best solution for terrace coverings is becoming more and more important.
When it comes to tiles for balconies, in particular, there are two fundamental factors involved: looks and durability.
Awareness of the importance and potentials of interior design has gradually been on the increase, and the appearance of outdoor pavings has more than kept up, with a variegated assortment of sophisticated products - care is taken over the covering of every surface in the home, and those outdoors are definitely no exception. Balcony tiles may aim to create continuity with indoor surfaces or have fun with daring contrasts.
On the other hand, the outdoor environment demands a covering resistant to bad weather, knocks and climate conditions. This is why our choice with regard to balcony tiles is clear: porcelain stoneware coverings.
Why are stoneware outdoor tiles ahead of the pack?
The covering of surfaces is one of the main factors in beautifying the home's spaces, for conveying style and personality, and for constructing a unique ambience. Balcony tiles do just as much, with an additional aspect that requires attention: the material's performance. The perfect outdoor paving tile combines beauty and durability. This is why porcelain stoneware is in a class of its own. As well as its exquisite appearance, with more and more options of the highest quality coming available all the time to add prestige to any outdoor location, stoneware guarantees outstanding performances.
Due to its physical characteristics, it offers durability over time and resistance to knocks, weather and thermal shocks - fundamental considerations always to be kept at the top of the list of priorities when choosing a good covering for terraces and outdoor areas. Porcelain stoneware is also highly prized for its easy installation, its friction coefficient and waterproof properties, and its low care needs.
These are the characteristics that make porcelain stoneware the first choice for outdoor pavings and for balcony tiles - a set of benefits that combine sophisticated appearance with high material quality.
Stone-effect outdoor stoneware tiles
The most popular finishes for terrace tiles include stone-effect porcelain stoneware tiles. A trendy solution that merges easily into the most widely varying interior design styles, from the most classical to the industrial. The Lombarda by Ergon collection is a fine example. Inspired by the austere elegance of early 20C Milan city-centre buildings and the iconic Ceppo di Gré stone, it combines solidity and solemnity with an absolutely contemporary vibe. A distinctive, elegant style that conserves the authenticity of stone and fits perfectly into outdoor locations. Available in three colour variants from white to black by way of grey, the colour that symbolises the collection and the natural beauty of stoneware, particularly ideal for balcony tiles.
Another collection worthy of mention is Tracce by Emilceramica, dedicated to the rough allure of stone. A collection that brings immense personality to outdoor paving installations. A series of tiles that embodies stone's entire geological history, visible at a glance. The rock's sedimentation and stratification and the effects of erosion and passing time are all recognisable in the collection's high-impact appearance. Tracce is available in three colour variants in the scale of greys in different sizes, with modern, creative installation and decor options. Harmony, dynamism and variety bring new, subtle resonances to the sobriety of stone.
Terracotta-effect tiles for balconies
If you want a warm, welcoming style for the tiles on your terrace, terracotta-effect stoneware may be exactly what you are looking for. It is a material steeped in history, deeply rooted in the Italian tradition, which emanates a sensation of home and of intimacy. An outdoor paving in terracotta-effect stoneware will evoke these sensations and associate them to an absolutely contemporary, sophisticated design style, part classic and part innovative.
A terracotta covering is ideal for balconies and outdoor areas that aim to establish a direct dialogue with the warmth of the indoor surfaces and to convey an air of fine craftsmanship, in order to create a mood of familiar, elegant luxury well suited to any location.
Geometric-effect terrace tiles
When discussing balcony tiles, we should remember that the potentials offered by porcelain stoneware are virtually infinite. In fact, terrace and outdoor tiles can be installed to meet the most widely varying needs in terms of style and appearance.
Geometric patterns are an excellent way of adding personality to a covering, for a trendy, contemporary effect. Even paving materials with the most traditional natural looks, like stone, can be used to create geometrical motifs that give dynamism and vibrancy to the finished covering. This is true, for example, in the Tracce by Emilceramica collection we have already mentioned: it uses the austerity of stone to create classic, arrow or domino mosaic decors, for fresh, new geometric effects.
The creative potentials of porcelain stoneware applied to balcony tiles reach far beyond geometric patterns. They have been in use for indoor coverings for a long time, and outdoors there are no limits to the choice of natural-looking finishes and impressions. The wood effect is a very characterful option for terrace tiles. Durable and with a truly authentic appearance, stoneware provides a natural finish, enabling the beauty of wood to be enjoyed even in outdoor locations. The Millelegni by Emilceramica collection is the ideal solution for outdoor pavings that meticulously resemble types of wood from all over the world. The Noce Selvatico (30x120 cm) and Scottish Oak (40x120 cm and available in 20 mm thickness) variants, in particular, will give terrace and balcony pavings a unique style and great personality - the intimate, relaxing beauty of wood extends to outdoor spaces, for a sophisticated, extremely modern effect.
From wood to stone, from uniformity to the most vibrant geometric patterns, stoneware tiles for balconies combine the reliability of their material with the most widely varied expressive potentials.
21 December 2021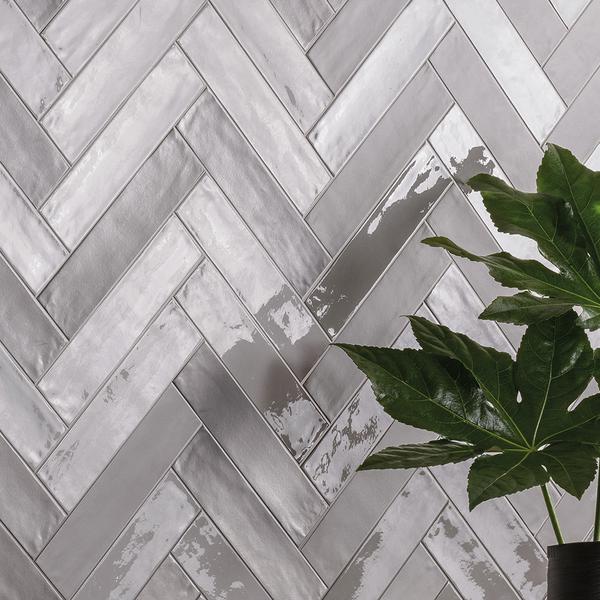 Totalook: interview with the designer