Black marble effect bathroom tiles: for a sophisticated high-drama look
A dark bathroom is a statement
You either love it or you hate it. And if you love it, you know that black is the ultimate expression of style in the interior design world: it defines shapes and is extremely elegant.
Use of black is not only a common trend in the fashion world, as we are often led to believe, but also in design. However, when it comes to covering rooms in the home, total black always makes us a little "afraid" because we are worried it will have a dark and oppressive effect. But don't panic: using the right tricks, you can create striking and characterful interior design projects.
What elements should you consider when creating a dark bathroom
If you have a dark streak and you want to take a daring approach to your home's interior, we recommend that you start with the bathroom. To create a total black look for the bathroom, you should take into consideration various elements that make it possible to harmonize shapes and color shades. Firstly, the size of the room: dark colors certainly emphasize the magnificence of a large space, while in a small bathroom dark shades on the walls and floors could reduce the perception of space. In reality, if you decide to be daring and experiment with geometric effects and lighting points, you can achieve a surprising result.
In any case, besides the size of the room, before opting for black it is important to carefully assess both natural and artificial light sources. Light highlights the shapes and dimensions of objects, creating an environment that matches the chosen style.
Another element that complements a dark bathroom is a ceiling painted white to accentuate the contrast with the black walls and to avoid a shrinking effect: this will ensure that guests are not disoriented by bathrooms with a slightly dark atmosphere. Like the ceiling, the bathroom fixtures should also have a neutral color: they will stand out in a luxury, elegant atmosphere.
Why choose black marble effect tiles over natural marble?
Black marble-effect bathroom tiles are ideal for a total black look. This type of covering is made of one of the most beautiful, noble and durable materials, which can enhance any type of space: porcelain stoneware, a ceramic composed of a mix of clays used to produce very resistant and waterproof tiles.
Black marble-effect bathroom tiles offer a contemporary interpretation of the aesthetic appearance of natural stone, reducing the disadvantages of this type of material. While marble boasts an exceptional aesthetic appeal and brightness, it requires a lot of effort to maintain and clean. Black marble-effect porcelain tiles are an excellent alternative for those who want to fill their home with the brilliance of marble and all the advantages of ceramic: it is easy to wash and does not absorb liquids; it is resistant to mould and bacteria; it has a very high resistance to foot traffic; it is a non-slip material; it can be superimposed on other floors and above all, it is much cheaper than natural marble.
Black and white marble for a vintage touch
If you are looking for black marble-effect wall tiles for your bathroom, Tele di Marmo by Emilceramica is perfect for your project. This collection is a new interpretation of marble, offering a contemporary version of a material with timeless charm and elegance. The series features Thassos white and Calacatta Black, two colors that combine to enhance the expressiveness of the entire room thanks to a vintage touch that never goes out of fashion in contemporary architecture.
Black and white marble-effect bathroom tiles lighten the dark effect, giving the space that much sought-after blend of beauty and timelessness.
Another current marble-effect trend is the return to total white, a very elegant, sophisticated solution that is ideal for brightening up small bathrooms and for further emphasizing the brilliance of the materials in larger bathrooms.
The Bianco D'Italia by Provenza:  collection transforms Carrara marble, one of the most prestigious marbles in the world, into a key element of interior design. A material that has always been used in both classical art and modern architecture, it has been also been found suitable for spaces with a contemporary design. The Provence marble collection selects three different vein patterns to decorate a bathroom with an elegant and refined look: Statuario, Calacatta and Arabescato. Statuario is used to create classical statues and is considered one of the finest types of marble because its vein pattern is subtle and very elegant. Calacatta, the most widely used marble, has a very attractive, tasteful vein pattern, while Arabescato has more prominent veins with a sinuous, decorative movement.
Go big and get the ultimate glam look
To obtain the best results from black marble-effect wall tiles, large tiles are one of the most inspired choices. They are especially suitable for large surfaces because, thanks to their reduced number of joints, they generate a seamless effect, allowing the marble effect to emerge in a much more realistic way.
Level is the Emilgroup brand that uses large ceramic slabs in the rectified 6.5 mm-thick 160x320 and unrectified 12 mm-thick 162x324 sizes, which can ensure the highest degree of expressive freedom in unique coverings that elevate the quality of the environment to that of a masterpiece. Level Marmi:  features large marble-effect tiles in different finishes and color schemes depending on the look that you wish to give your bathroom. In keeping with the total black theme, this collection presents Calacatta Black, large black marble-effect porcelain stoneware slabs with grey, yellow and brown veins that give the whole room a sinuous and enveloping effect.
Play with shades of grey and black
Another of the most popular solutions for the bathroom is grey marble-effect porcelain tiles combined with black.
One of the collections in which these two colours are fully expressed and reach their maximum potential is Tele di Marmo by Emilceramica , a tribute to one of the most beautiful, noble and durable materials, suitable for embellishing spaces with elegance and architectural strength. The project by Emilceramica originated from the idea of reinterpreting marble, a material of timeless charm, in a contemporary key through an unconventional choice of sizes, finishes and decorative elements. The fluid lines, colour shades and nuances in step with the different veins make this collection a true work of art.
The surfaces are innovative, offering alternative installations of the marble slab portions: for example, the "seminato di tessere" or the "battuto di listelli", created by carefully laying tiny dots or rectangular marble strips in mortar. The effect achieved is a more modern, unusual and dynamic surface. One particular detail is the surface created by combining marble slats. This solution plays down marble's monumental character, creating environments with great aesthetic impact. Tele di Marmo offers an infinite series of solutions by way of designs, sizes, colors and decorative possibilities, giving life and form to tailor-made architectural projects
Wood is the key to add some warmth to your black marble tiles
While black and dark grey marble-effect tiles provide a precise, elegant effect, the combination with a wood-effect porcelain stoneware floor lends warmth and personality to a room.  In a large bathroom, the alternation of these two effects, marble and wood, can be used to create a zen style that conveys a peaceful sensation to anyone who uses it. The Woodtouch by Ergon: collection highlights the natural charm of brushed and varnished oak, and is available in six color versions that enhance the different personalities of the wood: three natural, one grey, one wengé and one white.
Ideally for a bathroom in this style you should opt for furniture that pairs well with dark shades: a good trick is to choose mahogany furniture and organizers to fill and decorate the space. In harmony with the black and brown, you can create an interesting effect by placing cascading plants that lend color and lightness to the bathroom.
01 July 2020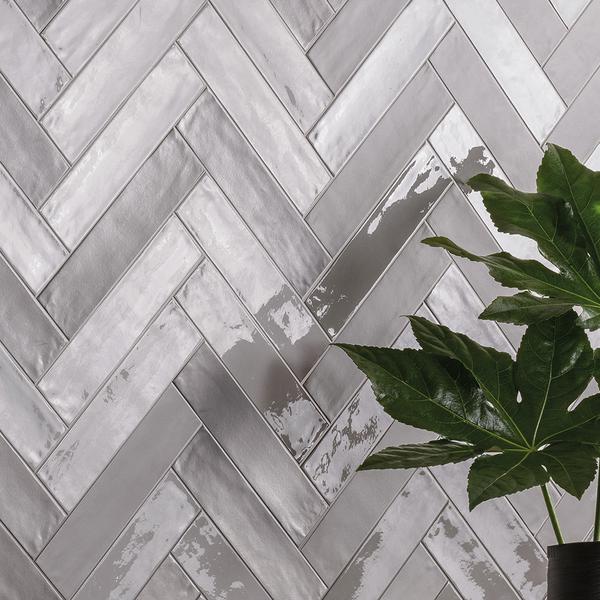 Totalook: interview with the designer