3 tips for renovating your kitchen in style
In every home there comes a time when you will have to start thinking about maintenance or renovation work: partly because the rooms start to show signs of wear and tear and partly because it is normal to get a little bored with the same old colours and designs year after year. Our houses can positively benefit from a few changes, and not just for aesthetic reasons: deciding to spruce things up is also an opportunity to choose cutting-edge elements in line with the most recent quality standards in terms of construction, resistance, hygiene and respect for the environment. All Emilceramica porcelain stoneware collections respect these standards, including the collections dedicated to coverings for kitchens - one of the most lived-in and delicate rooms in the home, as we know - on which we are going to focus today.
What you need to know before purchasing tiles for your kitchen
Kitchen coverings are usually subject to wear and tear: vapours stress the walls and after years of cleaning and cooking the surfaces become dull, scratched and stained. A destiny shared by many shelves, by wooden and Formica units and by the most common solutions which certainly do not boast the quality of porcelain stonewarekitchen tiles, which are completely impermeable and impervious to all types of wear and tear. In addition, over the years our home changes with us and little adjustments in terms of personality are sometimes par for the course.
Today there is quick and easy way of reinvigorating our kitchens: in fact, our kitchen coverings offer a wide variety of choice. Let's look at two collections by way of example: Be-Square by Emilceramica and Heritage by Viva. Both collections stand out for their incredible versatility, whether you are after a minimalist space – with white and uniform kitchen coverings, for example – or you want to add dynamism to your chef's workspace with colourful majolica and arabesque effects. But this versatility doesn't just stop with colours, it can also be seen in the construction options. The comprehensive range of available solutions caters for every kitchen whether you want large stoneware strip tiles for the floor (perhaps avoiding joints as far as possible), a mosaic effect on the wall behind the hob, or bespoke panels to decorate the kitchen, such as staggered strip tiles.
Tile colours that enhance the natural light
Let's begin with the premise that the undisputed star must be your kitchen: it makes no difference whether we are talking about a small, angular room with the worktops on the wall, or an open space with an island at the centre because the kitchen coverings of our Be-Square and Heritage collections enhance the positive aspects of every environment. You have to have the eye of a photographer and try to imagine which solution will take your room to the next level, exploiting the natural light to give it a tidy and calming appearance.
There is no risk of disappointment with Be-Square which takes its inspiration from the purity of concrete, guaranteeing a strong visual impact and a relaxing sense of simplicity: a covering for modern and stylish kitchens, suitable for minimalist spaces and available in a versatile range of combinations. The concrete effect comes in four colours: Concrete, a turtledove grey shade; Black, a dark and intense grey; Sand, a light sandy hue; Ivory, more delicate. Depending on the dimensions of your kitchen, it might be useful to opt for a size that showcases the spaces, if generous, or creates the illusion of space in more restricted environments: Be-Squareis therefore available in the options 60x120, 60x60 (both natural and semi-polished), 30x60, 80x80 (both natural and semi-polished), 40x80; but also in the large slab size of 120x278, more specifically designed for much larger rooms with continuous surfaces. On the contrary, for smaller spaces an additional size is available in the Be-Square Easy set, which includes a 20x20 cement tile in the above shades for a more classical look akin to that of a modern kitchen tile. If the natural lighting in your kitchen is poor, a lighter-coloured covering will help (and will always help) to brighten it up, but a mix of colours might also do the trick: Be-Square is available with a series of decorative majolica in a range of tones similar to that of the parent collection, particularly in the lighter shades, with a few subtle additions of colour – including brown, green and light blue – and with understated and highly contemporary geometric or floral motifs.
If concrete effect kitchen coverings don't match your taste, you can try the Heritage collection inspired by Montpellier stone, historically used to add lustre to castles and cathedrals: it emphatically conveys the power of an important past with a completely new, highly versatile and contemporary style. Here, too, there are four colours to choose from, without any risk of undermining the highly credible interpretation of the stone's natural appearance: Beige; Urban, with darker tones; Ivory, tending to white; Grey. Obviously there is also a wide selection of different cuts to ensure that every solution fits as accurately as possible to any space; the square 120x120, 80x80 and 60x60 sizes also make space for the rectangular 40x80, 60x120, 30x60 sizes. The design of the decorative tiles in this collection is refined and more classical compared with the previous solutions: in the 40x80 size, with an elegant branch motif the "Florita" series breaks up the continuity of the underlying blocks with a tone-on-tone relief surface embellished with a sanding effect, and can be used as an insert tile both on the wall and the floor.
Differences between coverings for walls and floors
To this end, one doubt that might surface is how to distinguish, and therefore choose, between a porcelain stoneware tile for the walls and another for the floor. The technical construction of Be-Square and Heritage kitchen coverings – like that of the other Emilgroup solutions – is such that every tile can be used for both the floor and the wall (perhaps only with the exception of slabs with thickness of over 10 mm, which are in any case designed for external environments). Robustness and durability are qualities common to all pieces in the collection, including the decorative solutions which can be used to add variety to both vertical and horizontal plain-coloured surfaces. In addition, it is also possible to use stoneware coverings as work surfaces on brickwork kitchen tops because they are resistant to impact and thermal shock, impermeable (naturally, not due to chemical agents or resins) and therefore easy to clean and disinfect.
In any case, Be-Square and Heritage also offer solutions more specifically designed for walls which, perfectly adaptable to kitchen coverings, help improve the aesthetic effect: for example, it is possible to choose small 30x30 mosaic kit tiles for backsplashes; in its mosaic series Heritageincludes a "Major" option with larger and staggered tiles, with or without decoration, in the 30x45 size. With this in mind, with both collections it is possible to use staggered strip tiles (in the standard 30x60 size) to achieve a seamless effect. Finally, for both solutions there are also trims to connect horizontal and vertical surfaces: the process can be completed with skirting, for example, in the colour shades chosen for the coverings.
23 June 2021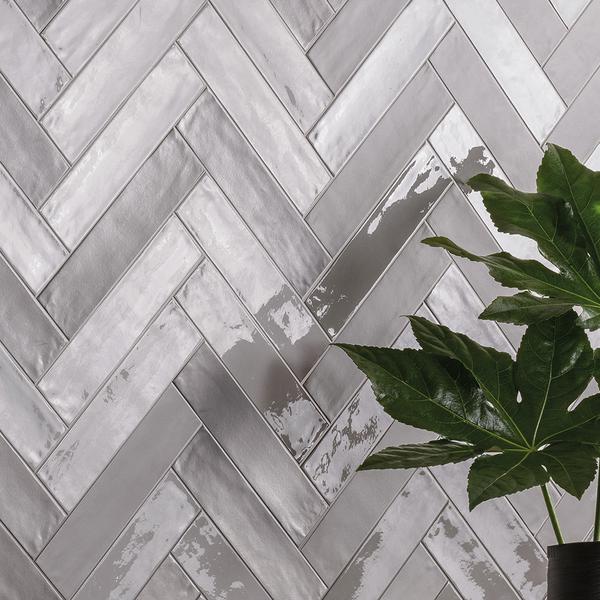 Totalook: interview with the designer