Minimal, elegant style: grey porcelain stoneware
The most highly appreciated interior design trends are not just a matter of black and white: grey porcelain stoneware is often the winning choice. This versatile colour is always elegant and up-to-date, suited to the most varied design concepts: from industrial lofts to hi-tech living rooms, minimalist kitchens and modern bedrooms. Ranging from glowing pearl grey to deep anthracite, grey porcelain stoneware offers solutions and nuances to cover the entire chromatic scale from white to black - a uniquely versatile option for design. Always the same colour - and always in a different light. Light is the characterising element of grey tiles, with their ability to illuminate or compress space, playing with chiaroscuro effects and changing the temperature of a room from cold gunmetal to warm greige.
And when we look at grey porcelain stoneware tiles, the stylistic options are effectively unlimited. Let's take a look at some examples.
The many varieties of grey porcelain stoneware tiles
Choosing the right grey porcelain stoneware tile for your application can be daunting, given the vast range of finishes and materials on offer. But it's also an opportunity to explore the most prestigious and evocative furnishing styles and surfaces. Just think of the architectural potential of a grey porcelain stoneware floor in concrete effect tiles, the seductive vein pattern of a Calacatta marble, the iridescent dynamism of metal or the tactile charm of a rough travertine wall.
Grey porcelain stoneware is the key - ever reliable and always faithful to the original – to the favourite materials of interior designers. Of these, the architectural potential and industrial style of concrete effect stands out from the crowd. Re-Play Concrete by Provenza lends all the structural power of cast concrete to grey concrete effect porcelain stoneware tiles, with outstanding realism and a rich array of colours, decorations and finishes. The catalogue offers everything needed for a creative designer project which leverages the look of concrete. With its six colours (from White to Anthracite and an intriguing Verdigris), Re-Play Concrete tiles are available in the Recupero version with its rough, distressed-style finish, Cassaforma Flat, with the formwork impressions still visible in its surface, and Cassaforma 3D, with its interlocking volumes. A combination of colours, tactile sensations and volumes that make the charisma of concrete available for unique, refined designs.
Grey porcelain stoneware: the perfect choice for interiors
Grey tiles: a choice that not only offers a vast range of aesthetic options (colours, styles and materials), but also a strong aptitude for design. The defining feature of grey is its neutrality. A grey porcelain stoneware floor sets the stage for forms, colours and materials, a surface that acts as the foundation for a total design concept while integrating into surrounding elements with ease. It's a colour that neither your eyes nor lovers of interior design will ever tire of: easy to combine with others, easy to clean, it brings balance and harmony to the space, while crossing many corners and ages of the world.
For instance, the inspiration for Chateau by Emilceramica comes directly from the heart of France. These natural stone-effect porcelain stoneware tiles evoke the solidity and timeless fascination of Burgundy limestone – a protagonist of French architecture and the most refined fashion. The collection is available in Blanc, Beige, Gris and Noire - colours that recall antique landscapes, traditions in sedimentation, memories of fossils and shells impressed into surfaces. The mosaic decors round out a catalogue which combines minimalism with rich expressive potential. 
How to combine grey-effect porcelain stoneware floor tiles with other colours
The extreme versatility of grey porcelain stoneware makes highly impactful combinations possible. Depending on your taste and design concept, a grey floor can be combined with a ton-on-ton colour wall - or contrasted with a fire red one. The lighter shades of grey set the stage for darker walls, an optical effect that creates a strong 3D statement; a dark grey floor in the modern style, on the other hand, combines very well with white or cream walls. The most popular current colour trends use taupe grey and, for an even bolder and very modern statement, combinations with strong blues and maroons – an excellent way to integrate colour into one of the room's walls.
It's hard to go wrong with grey, with its unlimited, highly attractive potential for matching with other colours; in all its variety, it never fails to be elegant, as in the Elegance Pro by Ergon collection. Sandstone is the protagonist in contemporary solutions for eclectic design, despite the apparent simplicity of the material. Its seven colour variants are ideal for floors in the various shades of grey, faithful to the rough authenticity of the rock: its touch, the soft movement of its sedimentation and the primordial warmth of stone. Furthermore, thanks to its four different finishes and the Shield antimicrobial process, this collection combines aesthetics with technical performance and surface protection. In a word - everything you could want from a floor that reflects your taste and way of inhabiting a space.
31 March 2022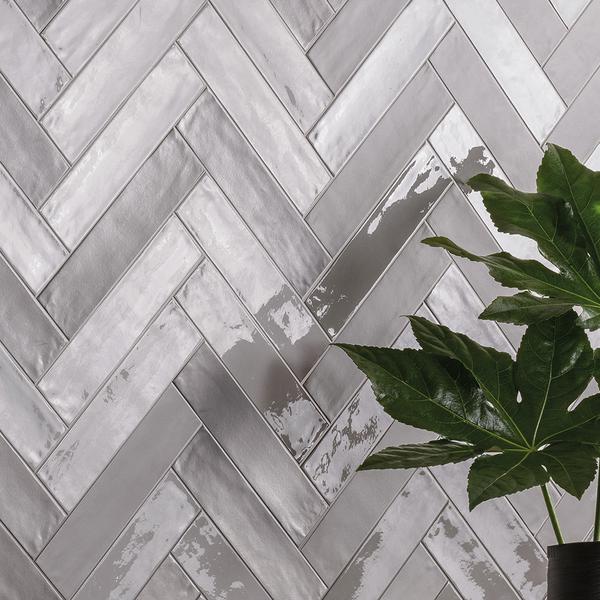 Totalook: interview with the designer