Explore the latest bedroom floor trends
The bedroom floor becomes an item of furnishing
The bedroom is first and foremost the place where we want to be at peace, so we can unwind and recharge our batteries. So it is important for the room's furnishing style to harmonise completely with its user's personality.   Bedroom floors dictate the style of the whole room: from the most classical to the most modern. In this article, we will offer some advice on how to furnish your bedroom, starting from the floor and working through to the furniture.
Classical bedroom
 If you like a classical interior design style, it is important to underline exactly what this implies.  When you walk into a room in classical style, every item, from the bedroom floor to the furniture, conveys an impression of exquisite refinement. The whole interior is elegant and luxurious: antique style furniture, upholstered sofas and beds with large headboards. All features which, if chosen with taste and discretion, can convey hospitality and warmth without being daunting.  
To adopt this style, as we already mentioned, you have to start from the basics: the choice of floor for the bedroom.
What should it be like? What colours should it be? One of the best collections of bedroom tiles in perfect classical style is Tele di Marmo by Emilceramica, a tribute to one of the most beautiful, noble and durable materials, suitable for embellishing spaces with elegance and architectural strength. 
The project by Emilceramica originated from the idea of reinterpreting marble, a material of timeless charm, in a contemporary key through an unconventional choice of sizes, finishes and decorative elements.
Four different natural and semi-polished marbles find their highest expression in the sizes of the large slabs, where the vein patterning becomes the absolute star.
The fluid lines, colour shades and nuances in step with the different veins make the Tele di Marmo fully-fledged works of art.
The surfaces are innovative, offering alternative installations of the marble slab portions: for example, the "seminato di tessere" or the "battuto di listelli", created by carefully laying tiny dots or rectangular marble strips in mortar. One particular detail is the surface created by combining marble slats. A solution that emphasises the classical side of marble's personality, creating bedroom floors with great aesthetic impact.
A versatile collection that offers the designer an infinite series of solutions by way of designs, sizes, colours and decorative possibilities.
But if marble is not your material of choice, you can also furnish your bedroom with parquet-look stoneware.  An option which is definitely less striking than marble, but which still adds the necessary classical touch to the interior.   If marble is the number one choice for bedroom floors in classical style, the walls should undoubtedly by cream in colour. The two colours combine to create splendid interplays of light that emphasise the elegance of the entire room: a timeless, vintage interior.   Another fundamental feature for completing the bedroom is the lighting system, which must be warm, with enticing colours. 
The light reflected off the tiles of a bedroom in classical style must be subdued, warm and subtle. We recommend eye-catching chandeliers with an elaborate structure that evokes the style of past times: substantial, luxurious and incredibly detailed.
Modern bedroom
But now let's switch to a diametrically opposite bedroom style: the modern style. First of all: what do we mean when we refer to modernity? Designing a modern bedroom means expressing your creativity with an extra touch of style; elegance is an important criterion, but it is also essential to follow the latest trends in the world of design.  The modern style is dominated by very pale colours combined with very dark ones, and minimal design alongside the most sophisticated effects: in short, modern style is a combination of contrasts that achieve a strong balance.  
Here again, we will start with the basics: what must the modern-style bedroom floor be like? People are experimenting with many different ways of giving an interior absolute modernity: porcelain stoneware bedroom floors are very popular, as are oak parquet and wood-look porcelain stoneware. 

One collection that gives the bedroom a completely contemporary tone is Provoak by Provenza: with irresistible naturalness, beauty and variety, it is inspired by the different ways in which oak can be finished. Oak wood and its compact vein patterns are heart of this collection, with a striking versatility that makes it ideal for interiors in different tastes, and especially in the most modern, trendy styles. Pure oak is a choice, exquisite timber with elegant, attractive unbroken vein patterns for a product with a reassuring mood in simple, minimal taste.
Selected salvaged natural oak planks enrich design schemes with a time-worn beauty and give surfaces an impressive personality.
Brushing leaves the surface soft and silky, in variegated shades of grey. The effect of burning with a naked flame gives the oak a particularly dark colour for an even more elegant surface, creating exquisite interiors. The sanding process bleaches the wood, emphasising its vein patterns and giving a three-dimensional effect to its surfaces. Perfect for creating splendid contemporary design schemes.
As we already mentioned, a modern style demands contrasts: a very dark oak bedroom floor goes well with walls in very light shades: feminine, refined pale pink, cream with its blend of classical and modern associations, and grey or taupe, neutral shades that enable the flooring to express all its stylistic power. 
Naturally, if bedroom floors in brighter, lighter colours are chosen, the walls must have a darker look, so the colours used may include maroon, dark grey, dark green or midnight blue.   

And to conclude, how do we light a modern bedroom? It is simple: the lighting will be cold yet delicate. Instead of the usual hanging ceiling light, fittings with a really trendy effect can be used: spotlights and LED strips are ideal for an entirely contemporary bedroom in line with current fashions.
Industrial bedroom
We will conclude by suggesting another option, different from both the classical and the modern styles: have you very considered a stone bedroom? This gives the whole room an industrial look, following one of the latest fashions. You can achieve this by simply choosing stone-look stoneware as the main material for both the floors and the walls. This will give you a bedroom in perfect "vintage factory" style, which has become very popular in the last few years.  

The Cornerstone Alpen by Ergon collection is inspired by the iconic Alpine stones. The vein patterns and tactile effect resemble the natural stone, and this lovely appearance is combined with the best technical characteristics.
Another perfect collection is Ego by Provenza, inspired by an ancient Mexican stone. The collection is completed by the Trame decor, which, combined with the plain tiles, increases the number of design possibilities, and it can be matched splendidly with the Alter by Provenza collection for a truly unique blend of wood and stone.   

Now you've read this article you only have to choose: classical, modern or industrial? It's up to you. 
01 February 2020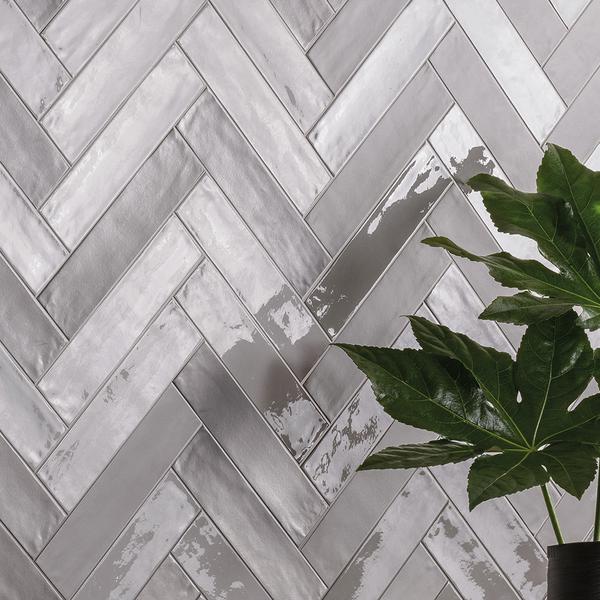 Totalook: interview with the designer