Tiles for outdoor use: all the benefits of porcelain stoneware
In summer, no-one wants to stay inside the house: in spite of all the comforts our homes have to offer, the call of the open air is irresistible, especially if we have some outdoor space, such as a balcony, a large terrace or a garden. However attractive it may already be in its own right, the looks and convenience of an outdoor space can benefit from a well-designed layout and intelligent furnishing, in line with our personal taste. As for interiors, porcelain stoneware tiles for outdoor use are a durable, appropriate choice for covering these spaces.
Great variety of effects for outdoor pavings (wood, stone, concrete)
The assortment of shades available for outdoor use is no less varied and versatile than that for indoors, and the same applies to the decor effects: all Emilgroup collections provide a wide margin of choice, granting freedom of combination regardless of the material look chosen: whether it is wood, stone (marble or unfinished stones) or concrete, the expected result is tasteful and elegant,and is delivered together with the incredible resistance guaranteed by tiles for outdoor use in the 20mm thickness. Let us take, for example,Landscape by EmilCeramica: stone-effect porcelain stoneware inspired by the limestone features typical of Italian landscapes. The four colours available (Avorio, Sabbia, Cenere and Antracite) incorporate the innovative SilkTech technology, which increases the stoneware's coefficient of friction to give it an anti-slip, silky finish. The combination of these features ensures increased safety if this collection is chosen, for example, for paving terraces or paths exposed to varying weather conditions.
Rapid cleaning
As well as these protective characteristics, outdoor stoneware tiles are convenient to clean. Just like porcelain stoneware floor coverings developed for indoor use, they comply with high quality standards with regard to sanitisation: outdoor tiles are also intrinsically antimicrobial,even when heavily used, with only basic care. This is not to mention the permitted variety of uses with the same excellent performances: whether you are tiling a pool edge, installing a balcony paving or covering open air eating surfaces, tiles can be cleaned with the same speed and the same guarantees of in-depth efficacy. Think of wood: in weather-exposed locations like these, over time it would rot and allow mould to build up. The Woodtouch by Ergon series easily overcomes the critical difficulties of the natural material which it accurately reproduces,adding all the outstanding technical features intrinsic to wood-effect porcelain stoneware: hard-wearing plank tiles in the Sbiancato, Paglia, Miele, Corda and Fumo colours, also available in the large 60x120 sizewith the W-Cage decor of scored lines, and with special technical details such as a Tecnica surface specifically developed for outdoor use, to provide a better anti-slip grip.
Easy to care for
There are no worries with Emilgroup tiles for outdoor use: they withstand physical and mechanical stresses, rapid variations in temperature, and exceptionally heavy loads. All that is needed to guarantee a long lifecycle and ensure that the stoneware is still as lovely as when it was first installed, even after a considerable time, is routine care, with no specific needs of any kind, giving the user peace of mind. What's more, the typical strength of porcelain stoneware should be considered essential, especially for outdoor use, where it is unthinkable to provide the same level of care and attention as generally ensured inside the home, where we can keep an eye on our tiles every day. In the garden it would not be easy to keep stone, for example, clean and intact if we were to use it in paths across the grass or poolside pavings: a few years after installation, routine cleaning would no longer be effective and would risk scratching the material, making it brittle, or leaving permanent stains or marks; chlorine would cause dull patches. With the Chateau by Emilceramica collection, these problems can be overcome by creating a very attractive outdoor paving in stone-effect stoneware, with the timeless beauty of the Beige, Gris, Blanc or Blackcolours, in Natural or Semi-polished surface and in the 80x80 modular size with the usual 20mm thickness. Simple regular cleaning is sufficient to restore these stoneware tiles to optimal conditions, with no risk of staining, even where rising damp or direct contact with water enables moss to grow.
Easy installation
Just as solutions for the home offer trouble-free installation, tiles for outdoor use are designed to provide exactly the same convenience: they are easily installed dry on grass, sand and gravel and can also be glued to concrete screeds for vehicle-resistant pavings, or for other projects in outdoor commercial or public contexts with heavy traffic. This certainly applies to the Ego by Provenza collection, inspired by an ancient Mexican stone tempered by the passing of time, and featuring a surface that enhances its blend of granite and limestone. For outdoor use, the 60x120 size is available in Sabbia and Grigio colours, with the added option of the Tecnica variant, like that included in the Woodtouch collection: an anti-slip surface that ensures even better performances and safety. The same easy installation is maintained even if tiles are used for purposes other than the usual paving: work surfaces and vertical coverings overcome any type of difficulty or impediment unscathed, and thus allow great freedom of choice.
18 August 2021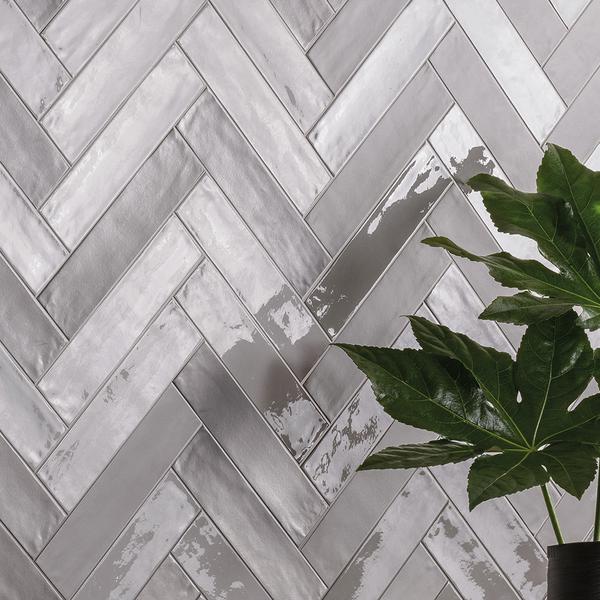 Totalook: interview with the designer