White marble-effect tiles: style meets sustainability
Elegance, harmony, classicism and high quality. Can all these features be found in a single stylistic solution? Yes, thanks to white marble-effect tiles, which make spaces truly timeless, immersed in luxury and charm.
Marble is a style that is being constantly renewed, moulding itself to our needs. It is used for white marble-effect stoneware tiles, a solution that offers a classic style, while embracing sustainability and technology. We are going to give a detailed list of all the advantages that can lead us to choose a porcelain stoneware floor covering with a marble effect:
- Costs are very affordable, even when it comes to tile installation: all you need is indoor adhesive and cement grout.
- White marble-effect tiles are quick and easy to maintain, requiring simple cleaning products to sanitize the floor.
- It is resistant: even if you opt for glossy white marble-effect stoneware solutions, there is no risk of deterioration over time.
- It weighs significantly less than real marble, which facilitates product handling during installation.
- It is customizable: white marble-effect tiles can be easily cut to fit the design of a room.
In short, all these benefits make the marble effect an incredibly sustainable design solution. Precisely for this reason, it is widely used in homes, as well as in stores, showrooms, public places and for creating furnishing elements such as backsplashes or tables.
Porcelain stoneware and sustainability
On the subject of white marble-effect floors, it is also important to stress that environmental sustainability is one of the core values of their manufacture. The technological innovation behind the production process of porcelain stoneware is the secret that makes the creation of this material totally eco-friendly.
Porcelain stoneware is made from natural materials and is not harmful since it does not require chemical waterproofing agents, paints or resins, does not release harmful gases and does not emit toxic gases, even when exposed to heat sources such as stoves, fire or sunlight. Last but not least, glossy white marble-effect stoneware boasts excellent thermal conductivity, to the extent that, when used for underfloor or wall heating systems, it offers significant energy savings.
Inspiration from the finest white marble
Having listed all the technical benefits and sustainable advantages of marble-effect porcelain stoneware, let's take a dive into the past to learn about its most common uses, because, as Michelangelo Buonarroti once said, "Marble is like man: before you embark on something, you have to really familiarize yourself with it and know everything that lies within."
From the Pantheon in Rome to the Parthenon in Athens, the works of Michelangelo and the luxurious living rooms in grand family houses of years gone by, the places where this material has been used transport us to a time when marble was considered a solution with enormous architectural value. But let's not forget that the famous White Carrara Marble is also the material used to cover the 432 Park Avenue skyscraper, the world's tallest residential complex.
This demonstrates that materials such as marble are timeless: they can exist and be used throughout history in different centuries and phases or for different styles. What matters is the elegance that sets them apart and makes them solutions suitable for any location, at any time in history.
But today, where do we find the inspiration that comes from the finest white marbles? Naturally in a white marble-effect floor or in glossy white marble-effect stoneware, solutions that perfectly reproduce all the veining and texture of the material and that create incredibly bright spaces that are minimalist, but distinguished by a sense of elegance that can be immediately traced to the acclaimed Carrara Marble.
Flawless and continuous surfaces
Another aspect to consider about white marble-effect tiles is the overall harmony that they bring to the whole space that they occupy. Porcelain stoneware is renowned for being the perfect solution for creating continuous surfaces made with thin large-size slabs that can create environments with a minimalist aesthetic, but incredible charm. A seamless white marble-effect floor is a great way to make rooms more spacious.
These surfaces are continuous thanks to the limited number of joints, which makes it possible not only to create the utmost harmony in a room, but also to easily clean the floors, allowing every corner to be thoroughly sanitized.
White marble-effect tiles, chosen to create continuous surfaces, can come in a large size and are a solution with an unmistakable aesthetic appeal for furnishing a living room or bedroom area, and above all for covering the kitchen and bathroom. Indeed, marble-effect porcelain stoneware has a perfect thickness for use as a covering for furnishing accessories: think, for example, of washbasin tops and bathtub tops for the bathroom.
Various finishes
In addition to all these advantages, we should also consider the different finishes available for white marble-effect tiles. Two collections that offer different finishes, colours and customisation options with marble are certainly Tele di Marmo Selection by Emilceramica, Tele di Marmo Revolution by Emilceramica and Level Marmi by Level.
A highly expressive marble-effect collection
Tele di Marmo Selection by Emilceramica is a collection that explores the audacity of opposites: the elegance of marble and the harmonious geometry of nature. The expressiveness of white marble-effect stoneware tiles is inspired by the quintessential noble stone and is perfect for creating highly distinctive environments that are as unique as a work of art. In addition to the various marble slabs in the collection, there is also the Tarsia Decor, which is inspired by the ancient inlay technique and creates floral subjects with the utmost expressive power that can convey depth and extraordinary dynamism in the space.
Tele di Marmo Selection by Emilceramica is an impressive, but versatile collection that offers designers the ability to create endless solutions and meticulously designed, complete spaces. It is available in two finishes: Full Lappato and Natural.
The timeless marble collection
Tele di Marmo Revolution by Emilceramica is the solution for creating eternal and completely timeless surfaces; it revolutionizes the idea of marble, offering a contemporary reinterpretation of a material characterised by its timeless allure and elegance. This version of Tele di Marmo is also available in Full Lappato and Natural finishes.
The highlight of the collection is the Acanto design, in which artistic mosaic is expressed through precise and calibrated geometric patterns that lend the tiles tone and detail. This is the decoration that makes the Tele di Marmo Revolution project a complete covering solution in which veining, reflections and details give the white marble-effect tiles a personality that leaves its mark on every project.
Versatile and contemporary white marble-effect tiles
The Level Marmi by Level collection is perfect for creating projects that not only enliven spaces, but manage to disrupt them, creating true masterpieces. The ceramic slabs in the collection, available in various sizes and thicknesses, are also designed to create objects such as tops and backsplashes for kitchens and bathrooms, worktops, tables, doors and even continuous floors with minimal joints. In other words, Level Marmi guarantees designers maximum versatility and customization. The available finishes are Full Lappato, Lappato Matt and Natural.
Pure white marble for the bathroom
To conclude our journey through the vein patterns, colours and all aspects of the marble effect, let's imagine together a room in which this texture is perfectly expressed.
Ever considered designing an entire bathroom with a white marble effect? Given that the most famous sculptures in the history of art are entirely made of marble, this effect will certainly give that touch of exclusivity and value that no other finish can offer. In short, designing an entire bathroom with white marble-effect stoneware tiles is not for everyone, but it is definitely the key to creating a memorable room with timeless elegance.
What are the main reasons for choosing the white marble effect?
- First of all, it offers endless design possibilities: with glossy white marble-effect stoneware, it is easy to create made-to-measure projects that are perfectly tailored to the available space. For example, you can design washbasins, bathtubs, shower tops and entire wall coverings.
- Furthermore, white marble-effect tiles are durable and long-lasting thanks to all the advantages of porcelain stoneware discussed earlier, including very high technical performance and impressive eco-sustainability benefits.
- This material's effect immediately gives the whole bathroom an exclusive and sophisticated look, creating extraordinary plays of light with a strong aesthetic impact.
- Finally, white marble-effect tiles look great with everything! That's right: this effect is suitable for both classic and contemporary designs and pairs well with different materials and colours.
What should be combined with white marble?
With regard to the last item on our list, let's take a look at possible combinations in a white marble-effect bathroom.
To ensure that the colours match the marble, choose light and tone-on-tone shades to accentuate its brightness: antique pink, soft grey, taupe, blue grey and classic beige; or opt for highly contrasting colours to create attractive chiaroscuro effects with petrol green, charcoal grey and brick red.
As for materials, black or brass finishes are very trendy, but polished steel or chrome finishes also never go out of fashion. One last combination that never fails to please? Marble and wood: a perfect match!
02 April 2021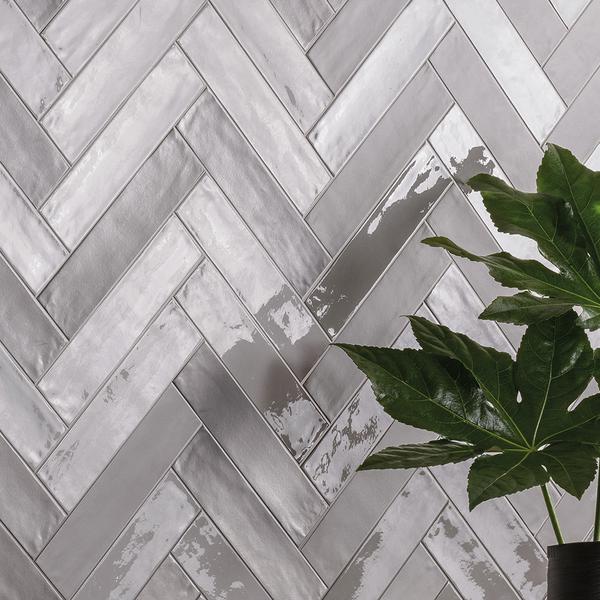 Totalook: interview with the designer