Wood-effect porcelain stoneware flooring: 7 new facts for you
Wood-effect stoneware floorings and pavings have been all the rage globally for years, and have become a real must in interior and exterior design. In fact, due to its technical characteristics, in many cases architects, consumers and builders prefer stoneware to parquet. There are many reasons for this preference: stoneware is highly resistant to abrasion, scratches and bending forces, does not absorb liquids, and does not contain chemical primers, varnishes or resins.
Stoneware is inert, so it does not absorb smells or emit any substances. It successfully combines exquisite design with the typical tactile appeal of wood, at a lower price than parquet. What's more, the ceramic solution isenvironment-friendly, because it not only prevents deforestation but also uses waste from the production process.

We discuss these 7 topics in greater depth below.
1 The benefits 
Wood-effect porcelain stoneware offers people who opt for it unique benefits: it withstands knocks, scratches and abrasion, it does not stain and is waterproof, it is immune to thermal shocks, it is resistant to chemicals and it is one of the quickest, easiest surfaces to
wash. Unlike other materials, it does not wear over time even in very damp or heavily used locations. The combination of these features makes wood-effect stoneware perfect for both indoor and outdoor surfaces.

The multiplicity of the effects available offers architects a vast choice of combinations, and this solution is thus ideal not just for creating a cosy, relaxing interior such as a bedroom, or a welcoming lounge or living area, but also for the verandah and garden.
2 The Emilgroup collections 
Emilgroup offers a number of wood-effect flooring collections.

The 20Twenty ceramic collection by Emilceramica evokes different types of timber, which in the right combinations are perfect for creating distinctive interiors of striking contemporary design, the basis for interiors with an exclusive originality of style. 

The Millelegni Remake collection, on the other hand, is ideal for design schemes in natural taste and with a strong personality in residential and commercial locations. The wood-effect floor coverings in the Millelegni Remake offer a fresh combination of the random elegance of wood, the ways its surfaces are transformed by time, the hand-crafted character of timber worked by man and a state-of-the-art design language.
3 Colours 
The colour variants which can be applied to wood-effect stoneware ceramic collections are another feature very popular with interior designers and architects the world over: they range from dark shades such as Tavola, by way of Tronco and Industrial, through to very pale colours like Pallets White.  

The wide range of choices facilitates the many possible combinations, in an interlocking puzzle of unique shades and vein patterns. The right mix provides the home with stylish solutions which may be classical or innovative, enhancing interiors with details and subtle shades, and creating interplays of light that often generate stunning chiaroscuro effects.
4 Opinions 
The international success achieved by wood-effect solutions is the best testimonial for this product. Naturally, reviews and comments are extremely positive: it is incredible how these floor coverings retain the structure and warmth of wood, giving interiors the homely appeal of the natural material, while offering the outstanding technical characteristics of stoneware.
5 Prices 
The price is also highly competitive in relation to dimensions and sizes, and therefore porcelain stoneware is an excellent solution for covering even large indoor and outdoor surfaces. And it is not only the price per square metre that is attractive; the savings in medium and long-term care and maintenance are also very beneficial. In fact, this durable product does not require any routine care.

To obtain the prices of  our collections we suggest you fill in the contact form on our webiste, so we can direct you to the dealer best equipped to serve your needs.
6 Installation 
Another benefit of ceramic coverings is their easy installation. What do you need to know before you start? First of all you need to decide which installation technique you are going to use: it may be uniform, geometrical or interlocking. After choosing the technique, you have to decide whether to use a cement mortar or an adhesive. Usually installation with adhesive, especially synthetic resins, provides the best performances in terms of elasticity and adaptation.

Not many tools are needed for installation: a trowel, a wooden mallet or hammer, spacers and sawdust. Naturally, installation is a very high-precision job, so it is essential to check the conditions of the screed, the layer of concrete applied to the basic structure; if damaged, it must be optimised for installation.
7 Imitation wood: cleaning and care advice 
Wood-effect stoneware is quick and easy to clean, but some simple procedures must be used, especially for cleaning after installation.

First of all, wet the floor with a little water, and then pour on a solution of cleaner diluted in water (about 1 litre of product for every 5 of water). For the very best results, the solution should be left on the floor for 2-3 minutes, before scrubbing briskly with a brush. Finally, to complete cleaning, simply rinse the floor with plenty of water. 

If one is available, especially after installation, it is an excellent idea to use a wet-dry vacuum cleaner to remove the dirty washing water, so that it does not get swept across the floor.  This ensures that grouting residues cannot cause semi-permanent stains due to their ineffective or late removal.

Routine care is also essential to keep the floor covering looking perfect and splendid throughout a long lifetime. The recommended routine treatments are standard stain-resistant primers, which protect the stoneware floor covering from possible damage caused by paints, inks, stains, rust or any other products with high penetration potential.

In other words, wood-effect tiles have now become a keystone of interior and exterior design, thanks to the vast combination potentials.
01 January 2020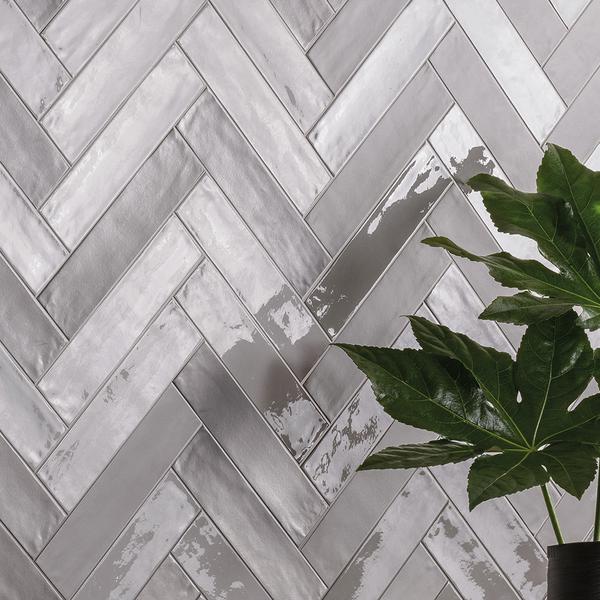 Totalook: interview with the designer