Discover the amazing effect and practicality of large-size tiles
Large-size tiles and the appeal of continuity
You cannot help but notice the modern appeal of large-size tiles. Indeed, large porcelain stoneware slabs are ideal for decorating both homes and retail premises, making every location innovative and trendy. Thanks to their dimensions, you can change the perception of space by going beyond classic horizontal and vertical lines. The reduced interruptions in the wall coverings make it possible for large-size tiles to shape spaces that envelop us, creating a sense of three-dimensionality, regardless of where we view them from.
This vision of surfaces allows interior designers to create new sensory interpretations of contemporary architecture that offer visual continuity between various rooms, in particular between indoors and outdoors, expanding the feeling of perceived space.
The beauty of materials accentuated by large slabs
Emilgroup's large-size porcelain stoneware opens up new perspectives for designing the home with an elegant, simply enviable style. The large slabs make it possible to accentuate the beauty of the materials used to produce them, which are available with various colours and effects: the more modern versions are inspired by materials such as marble, metal, stone and concrete. The decors and types of surfaces available, combined with the aesthetic offered by the large tiles, allow the creation of refined, absolutely up-to-date interiors. The large slabs are ideal for trendy, truly memorable floorings and coverings. Stoneware maintains all its technical qualities in this size: a high coefficient of friction and a high resistance to loads and atmospheric agents, especially when used for furnishing outdoor areas.
Sizes for outdoors
One of the collections best-suited to outdoor areas is Grain Stone By Ergon: inspired by granite, a stone with a simple, primitive appearance that has always provided the versatile, expressive base for works of architecture built to last over time. A timeless beauty expressed in the same colour variants as the Stone Talk collection, with which Grain Stone is usually combined: two warm and two cool shades and a neutral white are available in the two versions, fine-grained and coarse-grained, and in semi-polished, natural and technical finishes. The range is completed by the Cage decor, with a regular pattern of vertical and horizontal lines interrupted by diagonal slashes that give the surface an attractively substantial, dynamic and tactile look. A product with excellent technical potential, for contemporary design projects with depth, versatility and character. Grain Stone is available in the 20 mm-thick 80x80 size and makes it possible to design an outdoor location as a continuous space without limits or closures. The stylistic continuity offered by these sizes is exceptionally creative, yet functional. For example, in outdoor spaces it is easier to clean floor coverings and keep them looking good with no signs of weathering.
Large-size floor and wall tiles
Emilgroup's large porcelain stoneware slabs in the 120x240 cm size: are the best choice for recreating spaces with a contemporary and sophisticated look in line with the latest design trends. In the house's interior, these ceramic slabs are used to design both the flooring and wall coverings, creating a seamless effect throughout the space.
Numerous effects and textures make them unique, with shades created to satisfy every taste and need, creating very striking, charming rooms.
The technical characteristics of large slabs do not limit them to covering indoor spaces but, thanks to the properties of porcelain stoneware, you can create impressive outdoor projects that combine strength, character and aesthetics, without sacrificing versatile installation, which is also fast for large-size tiles.
Customize your kitchen with large sizes 
In every home, the kitchen is an open space for experiencing and sharing in which tiles are an unmistakably expressive element. A careful observer can understand a lot about the owners' personal taste from a house's coverings.
The kitchen is the heart of the home around which other rooms revolve. It is a space that is functional, but also perfect for hospitality, along with the living room. This is why kitchen furnishing materials should be chosen with a practical approach, without sacrificing style.
Thanks to their exceptional performance in terms of hygiene, practicality, cleanliness and durability, large-size kitchen tiles are perfect for covering walls, floors and worktops in the room: they resist all types of stains and can be easily cleaned with the most common detergents.
Level: is Emilgroup's key brand for the design and production of large ceramic slabs, 6.5 mm-thick 160x320 and 12 mm-thick 162x324, perfect for large floors, as well as for creating objects such as tops and backsplashes for kitchens and bathrooms, worktops, tables and doors. Level ensures the utmost expressive freedom with special attention to detail and characterization of the space, producing a unique, one-of-a-kind design.
The practicality of large-size slabs in the bathroom
Large-size porcelain stoneware also plays an important decorative role in the bathroom, where the furnishing is minimal and the visual impact is dependent on which coverings we opt for. Large-size bathroom tiles have a great aesthetic value because they can even recreate surprising effects in a small space.
In addition to their aesthetic appeal, it is also important to emphasize the hygienic advantage of large slabs: the surfaces create a seamless effect that significantly reduces the presence of joints, the areas that contain most of the stubborn dirt. A collection that makes the bathroom a limitless space? That is aesthetically special and totally functional? The answer us Narciso by Viva a ceramic collection inspired by antique mirrors, oxidized by atmospheric agents and dulled by the passage of time. Its large-size bathroom tiles celebrate the most basic expression of elegance: the beauty of antique mirrors joins the creative avant-garde. Every detail is emphasized by the gloss semi-polished and matt semi-polished finishes, which produce original aesthetic and tactile effects. Available in four colours – Perla, Argento, Topazio and Zaffiro –, the collection is ideal for public and private areas with a striking visual impact. Light, key to shaping the experience in any interior design project, interacts with the surfaces and is amplified by the reflections which the collection evokes (its name is the Italian form of "Narcissus"). Narciso comes to life in large slabs, creating linear, seamless surfaces that are ideal for covering a an unusually elegant bathroom.    
Maximising the potential of public spaces
Large-size tiles are also an excellent option for large surfaces in public spaces. They are designed to achieve a strong visual effect and an innovative, contemporary architectural style, even in places frequented by crowds of people.
For example, Playground as an Ergon collection offered by Emilgroup that is perfect not only for retail malls, shops, showrooms, beauty salons and hair salons, but also for private homes, including apartments, lofts and villas. The collection features two original surfaces, Resin and Paint, which offer numerous finishing options and precisely respond to the interior design concept. The concrete effect gives added light to interiors, with elegance and simplicity. It also provides the personality needed to give character to the entire space.
For optimal combination with the floor and wall coverings in the Playground collection by Ergon, the ideal choice is to furnish the room in line with the latest design trends, with simple, yet innovative lines and a minimal style that still has some traditional touches. Just as large-size floor coverings lend spaces rhythm, spatial continuity and dynamism, furnishing accessories and the overall style of the space must also offer a feeling of openness, spaciousness, simplicity and modernity. This overview has shown how large-size tiles are suitable for any space and can be used to create infinite customization possibilities. There are many Emilgroup collections that allow you to design with large slabs – you just have to choose the one that suits your style!
01 July 2020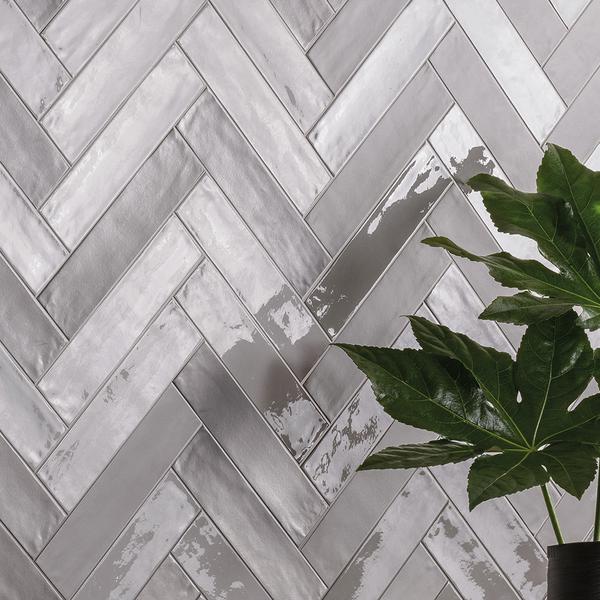 Totalook: interview with the designer