All you need to know about stoneware for commercial and office locations
Often you think of your home environment as irreplaceable: just the idea of walking in through the door makes you feel good, especially if you work hard and a long distance away. A home that reflects our personality gives us greater wellbeing because it is an extension of our tastes: if the chosen materials are guaranteed not to wear out or become harmful even after years of intensive use, we avoid unnecessary worry and maintain both our four walls and our peace of mind intact. This is possible with porcelain stoneware and its vast personalisation and installation potentials, not just for the home, where it is so very popular: for commercial locations and workplaces as well, porcelain stoneware coverings for offices can make all the difference, thanks to their technical and aesthetic qualities.
Why choose porcelain stoneware?
During the last few years, in effect, the concept of wellbeing that everyone applies to their own home has also been widely extended to workplaces, and it also involves interior decoration: the offices and commercial locations where we work must enable us to make good use of our time without restrictions and must withstand inevitably heavy-duty usage. Whether used as office floors or to cover the walls of a shop, porcelain stoneware is an excellent choice because it meets both the needs set out above: using tiles in offices is a way of upgrading these interiors, not just improving their appearance but also making spaces more efficient, with direct benefits for working performances. What's more, the astonishing variety of stoneware models and variants is able to rescue any space from anonymity: a prefabricated structure with a dull exterior can always amaze on the inside, even with just the right choice of office flooring; on the other hand, it is essential for a showroom displaying fashion products to take care over every detail, even with a minimalist approach. For example, just think of the simple appeal of concrete, often used in industrial contexts but never out of fashion. Re-Play Concrete by Provenza gives this material the right touch of elegance and functionality: the wide range of colours (Sand, White, Grey, Dark Grey and Verdigris) and structured surfaces (Recupero, Cassaforma Flat, with the marks left by wooden planks on the concrete, and Cassaforma 3D, with relief effects) is able to tastefully enhance any interior, without being strident or distracting. An open-plan showroom in the authentic shades of concrete-effect stoneware is much more impressive in large tile sizes: the Recupero and Cassaforma 3D effects, in particular, are available in the 60x120 size, which minimises all breaks and joints.
Characteristics and resistance of stoneware
When it comes to shared spaces, such as offices and commercial locations, attention is immediately focused on the care and maintenance of floor coverings: the floors of public premises are required to withstand frequent stresses caused by foot traffic, scuffing and sanitisation. In the office, chairs are moved around every day, and the workforce is always on the move; the weight of shelving to support files of documents and texts, which rest on the floor, must also be carefully considered. A shop, on the other hand, has to deal with constant foot traffic, the need for in-depth sanitisation, and the shifting of objects and sales materials. They all make heavy demands on most commonly used materials, which therefore require high levels of maintenance and are likely to deteriorate. The problem can be overcome by adopting porcelain stoneware for the floors of offices and commercial premises, and on all other surfaces: resistance to physical and mechanical pressures is guaranteed, with no risk of structural failure or chipping; moreover, frequent cleaning of stoneware surfaces does not impair their appearance over the years. Stoneware is intrinsically antimicrobial and stain-resistant, with the sole requirement of routine (low-level) care: however, this characteristic is further guaranteed by a specific production process offered by Emilgroup in the Elegance Pro by Ergon collection, in the Natural and Mural surfaces. This is "Shield", a protective barrier that helps to combat bacterial growth to provide healthier workplaces: specifically, it is a silver ion technology that gives surfaces permanent protection against bacteria reproduction and colonisation, eliminating up to 99.9% of them. Therefore, constant hygiene can be achieved even on the floors of commercial premises in spite of their bustling flows of customers, without sacrificing the aesthetic pleasure of tasteful interiors: inspired by the vein patterns of sandstone, Elegance Pro is available in no fewer than seven colours (Taupe, Sand, Ivory, White, Grey, Dark Grey and Anthracite) and four finishes (not only Natural and Mural but also Semi-Polished and Bush-hammered), in the most widely varying sizes: 120x120, 120x60, 60x60, 30x60 and 45x90, and plank sizes are available on request.
Wood effect (design examples)
Although used less often for the flooring of business premises, wood-effect porcelain stoneware can be a very attractive choice, especially in classic and elegant contexts. This is also one of the solutions with the best guarantees of a material which will retain its appearance unchanged in the long term: real wood would suffer excessive wear under the demands of daily operations. The ideal solution is Alter by Provenza, inspired by various types of salvaged oak, processed and treated with coloured resin inserts. The effect of natural authenticity is conserved by the four colours available: Sbiancato, Miele, Noce and Bruciato, in the 20x120 and 6.5x60 sizes. The 60x60 size, with a decorative motif called Incontro, consists of pieces of cross-cut wood sunk into the resin, and a similar version is available in the smaller 30x30 size, with mosaic structure. The elegance of wood-effect stoneware planks can therefore bring beauty to office floors bestowing a noticeable impression of space and airiness that helps to create a brighter, more positive workplace; in commercial premises, wood gives a sense of warmth and authenticity, making shops pleasant places to spend time in.
Stone effect (design examples)
As an alternative to wood - or combined with it, for a striking design scheme - stone-effect stoneware is also an excellent choice: there is no need to be afraid of this material's austere natural look, because with the right shade every solution can give the interior character and strength, and not lack personality. Landscape by EmilCeramica has been specifically developed to provide modern solutions: simple and tasteful, inspired by the Italian limestonestypically used in the country's medieval villages, it is classical in appearance but with sophisticated, contemporary touches. Its refined colour assortment (Avorio, Sabbia, Cenere and Antracite) should not mislead us into thinking it looks too bland: the Rigato decor has a distinctive relief texture ideal for creating volume effects in perfect visual and design continuity. What's more, Landscape features the innovative SilkTech technology, developed in the Emilgroup laboratories: it increases the coefficient of friction while providing incredible softness to the touch, for a uniquely pleasurable surface. It also enhances safety, since it is able to give anti-slip properties to the floors of offices and commercial premises, without in any way impairing their appearance.
13 August 2021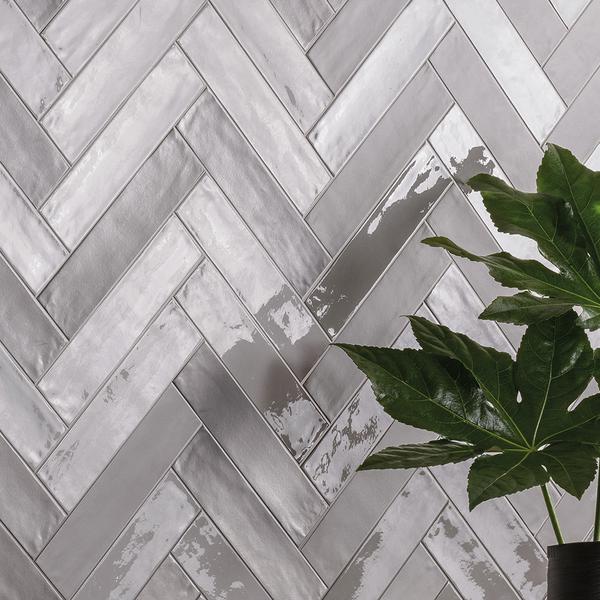 Totalook: interview with the designer